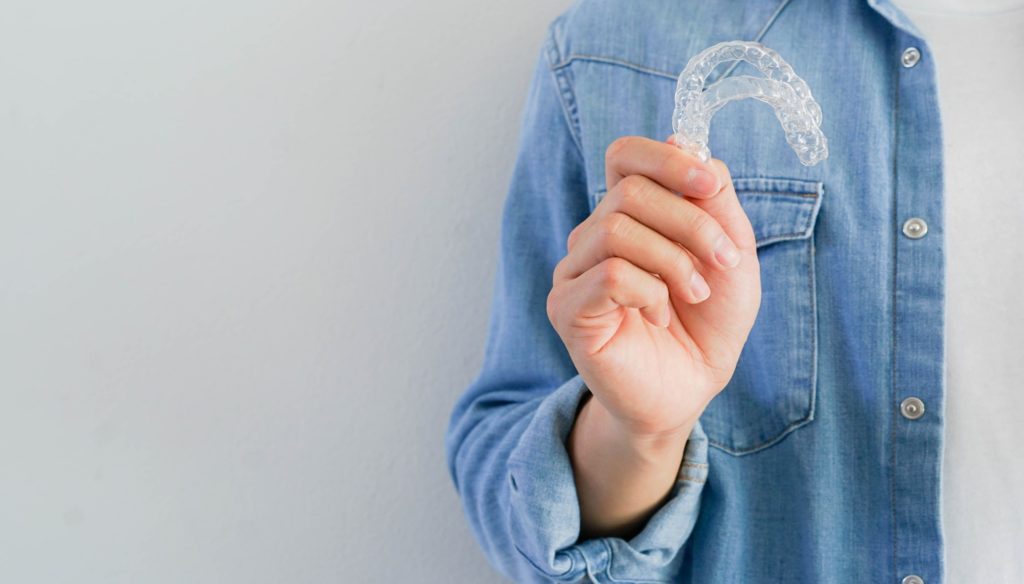 Over the last two decades, Invisalign has helped more than 8 million patients achieve their smile goals, making it one of the most sought-after treatments. One of the most popular reasons patients choose Invisalign is because of the discreet aligners. After all, who doesn't want to straighten their teeth without the metal? However, there are a few notable, non-cosmetic benefits of Invisalign to consider as well. To learn what they are, read on!
Benefit #1: Stress-Free Oral Care
While traditional braces are no doubt effective, they do make cleaning your teeth a bit more complex. Fortunately, since the clear aligners are removable, the same cannot be said for Invisalign! To complete your oral hygiene routine, all you need to do is pop out your trays, rinse them off, and place them in a safe place while you brush and floss – no complicated techniques or special tools required.
Benefit #2: No Dietary Restrictions
From caramel apples to corn on the cob, there are quite a few dietary restrictions patients must stick to with metal braces. Invisalign, on the other hand, doesn't require you to make any changes to your diet! The only rule pertaining to mealtime is that you cannot eat or drink (with the exception of water) with your aligners in.
Benefit #3: Shorter Treatment Timelines
One huge benefit of Invisalign is that the average treatment timeline is only 12 months! While the length will vary depending on each patient's unique needs, this is significantly shorter than the 24+ months typically associated with metal braces. To stay on track with your treatment plan, make sure to care for your teeth and aligners, wear your trays for 22 hours a day, and switch to each new set on time.
Benefit #4: More Comfortable Fit
Invisalign clear aligners aren't a one-size-fits-all treatment. They are custom-made just for you, ensuring they fit precisely. As a result, they are significantly less likely to irritate your gums and the soft tissue in your mouth. Plus, even if there is a sharp edge on one of your trays, it's nothing that can't be remedied with some orthodontic wax!
While the cosmetic benefits of clear aligners are certainly substantial, it turns out that's far from the only reason Invisalign is as popular as it is. If you're interested in finding out if this discreet teeth-straightening treatment is right for you, get in touch with your dentist today!
About the Author
After graduating with honors from The Rochester Institute of Technology, Dr. Darren Koch earned his DDS from The University at Buffalo. However, his extensive education and additional training didn't stop there! Over the last two decades, he has maintained an active membership with notable organizations, like the American Academy of Clear Aligners (AACA). He loves providing patients in his treatment chair with personalized, top-tier dentistry that results in beautiful smiles. If you're interested in learning more about the benefits of Invisalign or would like to schedule your initial consultation, don't hesitate to visit his website or give him a call at 919-859-6633.