Dentures – Cary, NC
Filling the Gaps in Your Smile
When you live with missing teeth, you can no longer smile confidently due to the empty spaces and difficulty chewing many of your favorite foods. Over time, this can lead to nutritional deficiencies and speech difficulties. However, your dental health will also start to decline as any remaining natural teeth lose the support they need to stay in place. This increases your risk for tooth decay, gum disease, and additional tooth loss in the future. While you have probably considered dentures in the past, they tend to have a bad reputation for looking fake. Now, new advancements allow them to look more natural than ever before while restoring your quality of life and dental health. As an experienced dentist, Dr. Darren Koch offers full and partial dentures in Cary to give you a confident, complete smile again.
Why Choose Darren G. Koch, DDS, PA for Dentures?
Personalized Partial and Complete Dentures
Dentist That's Skilled in Case Planning
Long-Lasting, Lifelike Dental Materials
The Benefits of Dentures
Dentures remain one of the most popular solutions to replace missing teeth because they are affordable and convenient. In just a couple of appointments, you will have natural-looking prosthetic teeth to give you a complete smile.
Now, they look more like real teeth so no one will be able to tell that they are not your own. Using the most advanced dental technologies, you benefit from enhanced comfort and function by gaining a secure fit so you can chew and speak without having to worry about slipping or irritation.
Depending on your severity of tooth loss, partial or full dentures may be right for you. Your Cary dentist, Dr. Koch, will perform a consultation to discuss your options for a complete smile.
Partial Dentures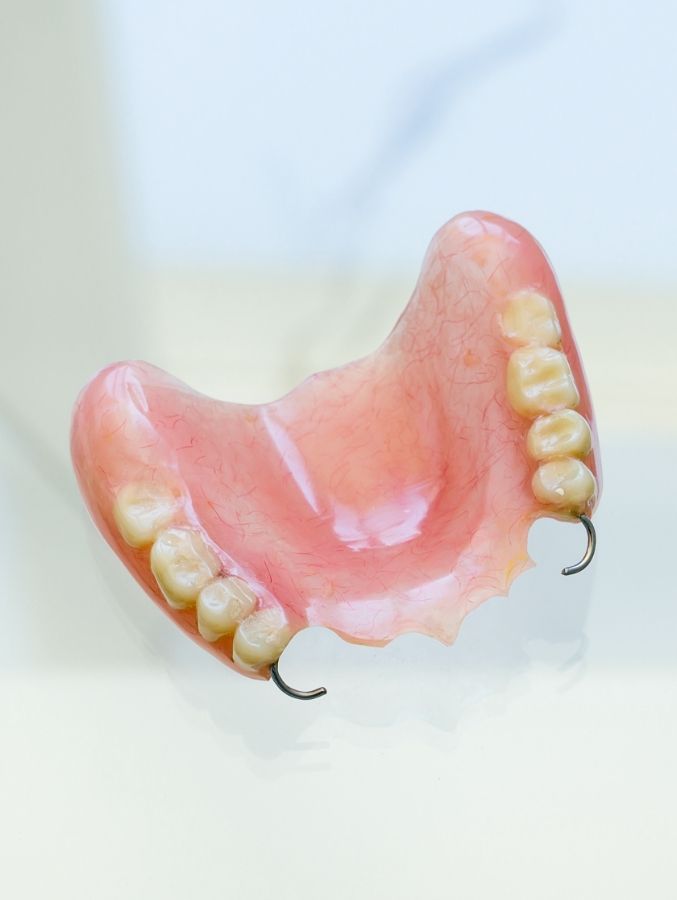 If you have several teeth missing in a row, you may be a candidate for partial dentures. Custom-made prosthetics are attached to a gum-colored base that features a metal framework. This is then fitted over your remaining natural teeth to hold it in place. This will fill the empty space while also providing your teeth with the support they need to stay in place to protect your dental health.
Full Dentures
When you are suffering from tooth loss, you will require full dentures. The prosthetic teeth are attached to a gum-colored base, which is created using impressions of your mouth. This ensures the proper fit to enhance your comfort and the function of the prosthetics. A denture adhesive is then used to hold them in place to allow you to eat your favorite foods while also speaking and smiling without any concern.
Understanding the Cost of Dentures
Are you curious about the cost of dentures in Cary? You're in the right place! We encourage you to contact our office to speak with one of our knowledgeable team members if you have any specific questions. Until then, we've included some important information about the factors that contribute to your denture price. No two cases are the same, which is why it's difficult to provide a precise estimate. Read on to learn more about the price of your treatment and what you can expect!
Factors That Affect the Cost of Dentures
There are three main factors that influence the cost of your dentures:
Preparation: We may recommend preliminary treatments like gum disease therapy or extractions. These services will add to the total price of your dentures.
Base material: The gum-colored base on your denture can be made from different types of acrylics. The type of material used will impact the cost of your replacement. It's important that these materials match the natural look of your gums.
Prosthetic teeth: The prosthetic teeth attached to the base can be made from acrylic or porcelain. Porcelain is often more expensive, but it provides a more natural and realistic appearance. We are always transparent about the types of materials we use for our dentures.
Are Implant Dentures More Expensive?
Yes, implant dentures are typically more expensive, but this is for good reason. Unlike a traditional prosthetic, an implant denture is completely stable, strong, and lifelike. Utilizing dental implants, an implant denture is firmly rooted in the jawbone, allowing it to look, feel, and function just like a natural smile. Plus, you can eat virtually whatever you want because your smile is so secure. You may even end up saving money in the long run because implant dentures require fewer replacements compared to traditional ones.
Does Dental Insurance Cover Dentures?
Dentures are considered a major procedure, which is why their cost is usually covered by around 50%. However, every plan is different, which is why it's important to check with your provider before making any final decisions. We are always happy to communicate directly with your insurance to maximize any benefits available, lowering your out-of-pocket spending. Our friendly team is experienced in helping patients enjoy the full benefits of their insurance plan.
Other Options for Making Dentures Affordable
No insurance? No problem! We have various ways of making our quality dentures in Cary affordable for all budgets. Primarily, our in-house membership plan is a great way for patients without coverage to enjoy discounted dentistry. Depending on your finances, you can pay for this plan monthly or annually, making it a budget-friendly option. Additionally, we offer alternative financing through CareCredit. This solution allows our patients to choose a low-to-no interest monthly payment plan that works best for their needs. We always have a way to help you enjoy affordable dentures.
Your Solutions for a Complete Smile
Dentures have been one of the most common solutions to replace missing teeth for well over 100 years because they are convenient and affordable. Due to several advancements, you do not have to worry about slipping, irritation or discomfort. In addition, implant-supported dentures are also available for those who are a candidate.
Dentures FAQs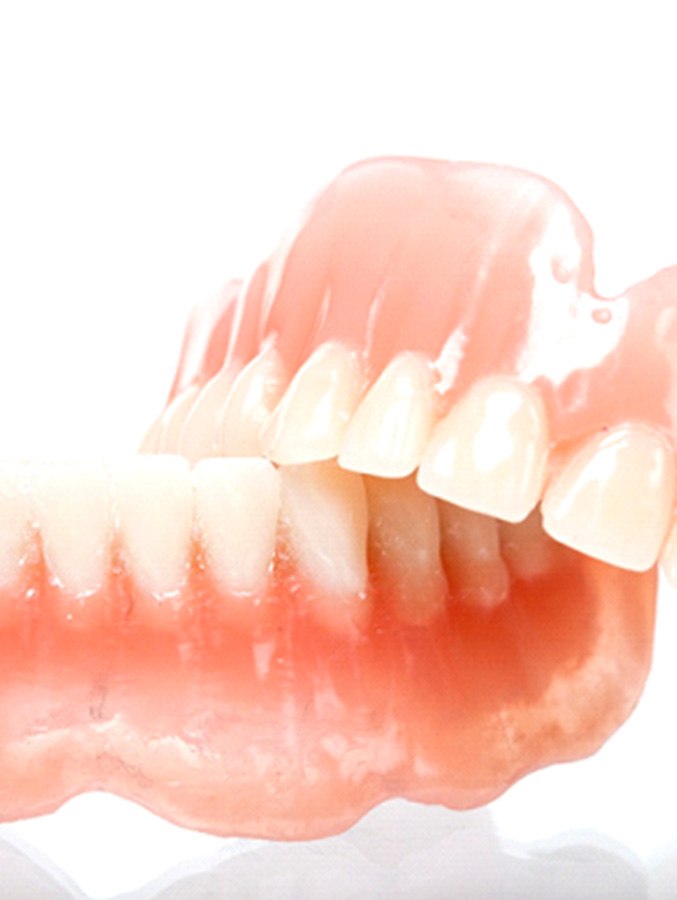 Plenty of questions are likely to be on your mind when you're getting dentures, and our team can't wait to answer them! If you call our office or schedule a consultation with us, you can ask anything you want about dentures and the process of getting them. Before you pick up the phone, though, please read the FAQs below; you'll find a lot of helpful information about what you can expect when you choose dentures.
What is the Average Age for Dentures?
Not everyone ends up losing their permanent teeth, but it does tend to happen more often among older patients. Around two-thirds of adults in the United States between the ages of 40 and 64 have some number of missing teeth. Furthermore, well over half of adults in the age range of 65 to 74 wear dentures to deal with extensive tooth loss.
Remember, qualifying for dentures has more to do with the state of your mouth than it does with your age. If you've lost multiple teeth, dentures could be worth considering.
Can I Sleep with My Dentures?
Technically you can, and it's actually recommended that you do so during the first 24 hours after receiving your dentures. But in the long run, it's always better to remove your dentures when it's time for bed.
As harmless as it may seem, sleeping with your dentures can lead to all kinds of health issues. It speeds up the resorption process in the bony ridge that supports them, and it can cause sores to appear on your gums. Removing your dentures at night helps give your jawbone and soft tissues a much-needed break.
What Can't I Eat with Dentures?
It's generally advised that you avoid the following kinds of foods as much as possible after getting dentures:
Hard Foods: Trying to bite down on nuts, popcorn, apples, and other hard foods too often could end up breaking your dentures.
Sticky Foods: It's hard to eat peanut butter and other sticky foods with dentures since they can pull your prosthesis off your gums. Furthermore, there's an increased chance that little bits of food will get trapped under your dentures, which can lead to gum disease.
Tough Meats: Steak and other tough meats are often hard on dentures due to all the chewing that you need to do.
Can I Use Regular Toothpaste to Clean My Dentures?
As natural as your dentures may look, you shouldn't use toothpaste to clean them. Many types of toothpaste are abrasive (with some being significantly more abrasive than others). As such, they can leave noticeable scratches on your prosthetic teeth. Fortunately, there are better materials you can clean dentures with, like mild hand soap, dishwashing liquid, and denture cleanser.
Be sure to rinse your dentures thoroughly after cleaning them. Don't use hot water, though; it could warp the material, meaning your dentures will no longer fit properly inside your mouth.