Meet Our Dental Team – Cary, NC
Get to Know Our Amazing Team
Dr. Darren Koch will agree that our team is what makes our dental practice so special. Each of them has years of experience beneath their belts and do whatever it takes to help their patients have enjoyable, comfortable visits. They intentionally carve out time to get to know patients, all while staying on schedule, and they're always available to answer any questions that a patient may have about a particular dental treatment or diagnosis. You can learn more about our phenomenal dental team in Cary by reading below.
Read About Our Team Members
Dr. Christopher Hartung
Associate Dentist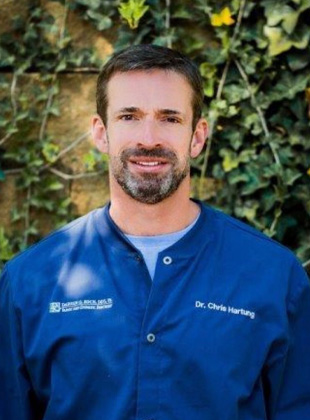 Dr. Hartung may be new to our dental office, but his experience in the field covers over 25 years! He loves helping patients from all walks of life achieve healthy, beautiful smiles that are built to last. Dr. Koch and the rest of our team are thrilled to have him onboard. Interested in learning more about him? Just continue reading below, or contact us today to schedule a visit.
Dr. Hartung's first dental visit as a child was with a pediatric dentist – Dr. Culbreth – who practiced in Charlotte. In a way, that positive visit changed the whole trajectory of his life because it made him want to become a dentist himself, and he never strayed from that goal!
Originally from Rockwell, Dr. Hartung completed his dental doctorate at the UNC Chapel Hill Dental School, graduating in 1996. He has been working hard in private practice ever since. Today, he is an active member of the American Dental Association and North Carolina Dental Society.
Dr. Hartung is the proud parent of two children (a son and a daughter) who are both currently studying dentistry in college! He currently lives on a mini farm in Pittsboro where he raises mini donkeys and goats. He also really enjoys boating in his free time and has completed five half Ironman triathlons in his life.
Diana
Dental Practice Manager (BSRDH, MEd)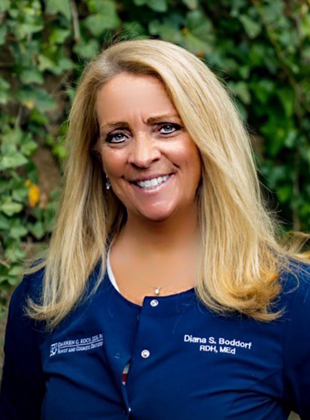 Diana first joined our dental practice in June of 1983 as a Registered Dental Hygienist. She has provided many years of dedication and service that helped our practice grow in numerous ways. In 1996, she opened a new door by becoming the office's first practice manager. With multiple years of experience in the dental field, she has provided many employees with guidance to help them grow and improve personally and professionally. Her education and devotion to excellence are a dramatic influence in our office and continue to make our dental team strive for perfection.
Originally from Lenoir, NC, Diana received her Bachelor of Science Degree in Dental Hygiene from the University of North Carolina-Chapel Hill in 1983. Additionally, she achieved her Master's Degree in Adult Education-Training and Development from North Carolina State University in 1998. She served as President of the UNC Dental Hygiene Alumni Association in 1991 and was presented with the Distinguished Alumni Award in 1993. She has also served on the Advisory Committee of the Wake Technical Community College Dental Hygiene School and is a former member of the Board of Directors for the North Carolina Caring Dental Professionals, as well as the American Dental Hygienists' Association and the North Carolina Dental Hygiene Association. Currently, she is a member of the National Association of Professional Women and the American Association of Dental Office Managers.
Diana serves as a Consultant Member for the CDCA (The Commission on Dental Competency Assessments), participating in clinical dental hygiene board examinations in various states. Additionally, she served as Past Chairman of the (TSA) Test Site Administrator Committee for The Council of Interstate Testing Agencies, Inc. by administering both clinical dental and dental hygiene board examinations for licensure. She has participated as a dental hygiene examiner and/or an administrator in North Carolina, Louisiana, Puerto Rico, Mississippi, Alabama, South Carolina, Virginia, Tennessee, Ohio, Michigan, and New York.
Diana and her husband have two children. When she has free time, she enjoys working out, being on the beach, traveling, keeping up with her beloved Tarheels, and especially watching her son on the baseball field, and daughter on the soccer field. She holds a previous certification from the American Council of Exercise and participated as a group fitness instructor in a local health club from 1988 to 2008.
Kristen
Registered Dental Hygienist (BSRDH)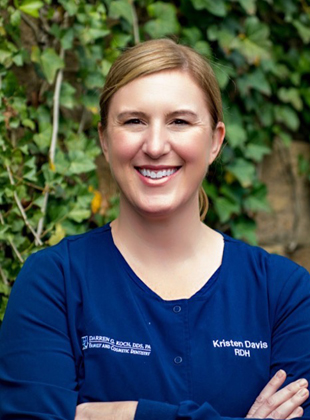 Originally from Currituck County, Kristen has a rich dental history as her father, uncle and brother are all dentists. She has been practicing Dental Hygiene since 2009 and joined our practice in 2016. Kristen earned her Bachelor of Arts in Communications from UNC Chapel Hill before going on to achieve her Associate of Science in Dental Hygiene from Wayne Community College. She is certified to administer local anesthesia. She loves being able to meet new people through her job and educate them about oral health.
Kristen is married with one son. Outside of the office, she enjoys reading, hot yoga, crafting, and cooking. In the past, she lived in New Orleans for 2 ½ years and actually had to evacuate because of Hurricane Katrina.
Kristy
Registered Dental Hygienist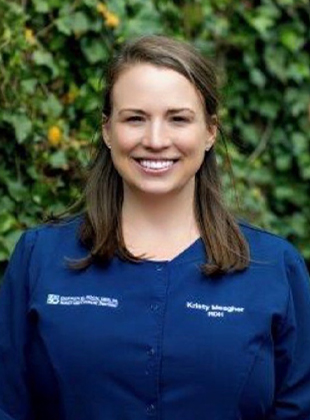 With an impressive 10+ years of experience in the world of dentistry, Kristy joined our team in 2021. For her, the best thing about being a dental hygienist is connecting with others. These genuine relationships make her job incredibly fulfilling and make a positive impact on the oral health of her patients!
Although she is originally from Washington, Kristy chose to attend Wake Technical Community College for her studies. Now, she is a Basic Life Support Provider and is certified to administer local anesthesia.
Kristy and her husband, Ryan, have two college-aged children and one Golden Retriever, Winnie. When she isn't spending time with her family (which is most of the time!), she enjoys traveling and serving in the children's ministry at Crosspointe Church. Here's a fun fact about her: she's an amateur carpenter.
Susanne
Registered Dental Hygienist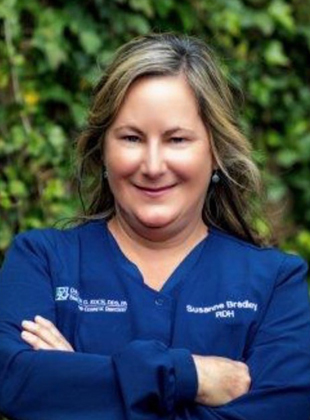 Susanne has been working in the dental world for almost three full decades now! She loves getting to know our patients one-on-one throughout their appointment, helping them overcome any fears surrounding the dentist's office, and improving their dental and overall health in lasting ways.
Susanne studied dental hygiene at Coastal Carolina University. Today, she is also certified in the administration of local anesthesia.
When she isn't busy at Dr. Koch's office, Susanne spends plenty of quality time with her husband John, their two sons Jonathan and Brandon, and their three rescue Lab mix puppies. The dogs certainly demand a lot of their attention, but as for hobbies, she also enjoys cooking, reading, and traveling. Their favorite trips so far include stops in the Caribbean, Italy, and Greece!
Megan
Administrative Assistant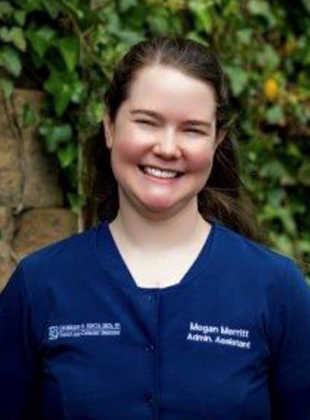 Megan has been a part of our team since 2009. She attended Wake Tech Community College and loves the great people she works with, as well as the fact that her job is never boring.
Originally from Fuquay-Varina, Megan has a wonderful mom, a sister and brother-in-law, and three nieces. In her free time, she enjoys doing puzzles, watching old movies, cross-stitching, and singing in the church choir.
Amy
Dental Assistant (DA II)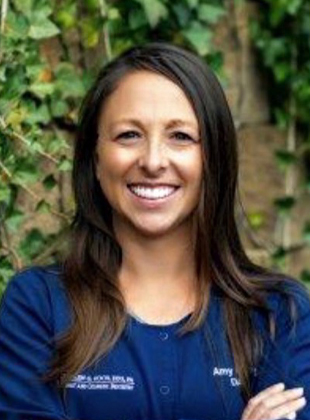 Originally from Durham, Amy first joined our practice in July of 2014. She completed her training at the NCDATS (North Carolina Dental Assisting Training School) in 2010. Her favorite part of her job is being able to help people feel better about their smiles and themselves!
Amy is married and has two sons. In her free time, she enjoys being with family, especially at the lake or on the beach. She is also a huge Duke fan, and her favorite food is French fries.