Cosmetic Dentistry - Cary, NC
Transform Your Smile
Smiles should be shown off proudly, not hidden in the backgrounds of photos or behind hands. If you're struggling with flawed or lackluster teeth, don't settle for them – instead, restore their former glory with cosmetic dentistry from Dr. Darren Koch's practice! Our well-trained, friendly team of doctors and staff offer a variety of procedures that all have one great outcome: simply dazzling results. Patients from Holly Springs, NC and surrounding areas are welcome to contact us today and schedule a cosmetic consultation.
Porcelain Veneers
Are you struggling with multiple cosmetic flaws? Porcelain veneers can be the perfect treatment option for patients who don't want to undergo multiple lengthy procedures – they even work as "instant orthodontics" in some cases! The quality restoration is designed to be very thin so it can be placed over the visible surface of your teeth hiding years of stains, cracks, chips, gaps, and more under a beautiful, new appearance that looks natural.
The quality porcelain material we use for veneers is actually resistant against staining, which means patients are able to enjoy their improvements for even longer. With the right amount of oral hygiene and professional maintenance from Dr. Koch and our team, they last 15 years or longer.
Learn More About Porcelain Veneers
Tooth-Colored Fillings
Tooth-colored fillings are a significant step up from the traditional amalgam model providing aesthetic improvements so strong that it's virtually impossible to distinguish them from natural enamel. Dr. Koch uses composite resin to create a direct bond with the decayed tooth providing needed support to teeth that have suffered cavities while preserving even more natural healthy structure.
In addition to these benefits, tooth-colored fillings don't suffer from a common pitfall of amalgam fillings – they won't change shape when exposed to changes in temperature resulting in more comfort for the patient. With support from our Cary practice, they can be successful and aesthetically pleasing for years to come.
Learn More About Tooth-Colored Fillings
All-Ceramic Dental Restorations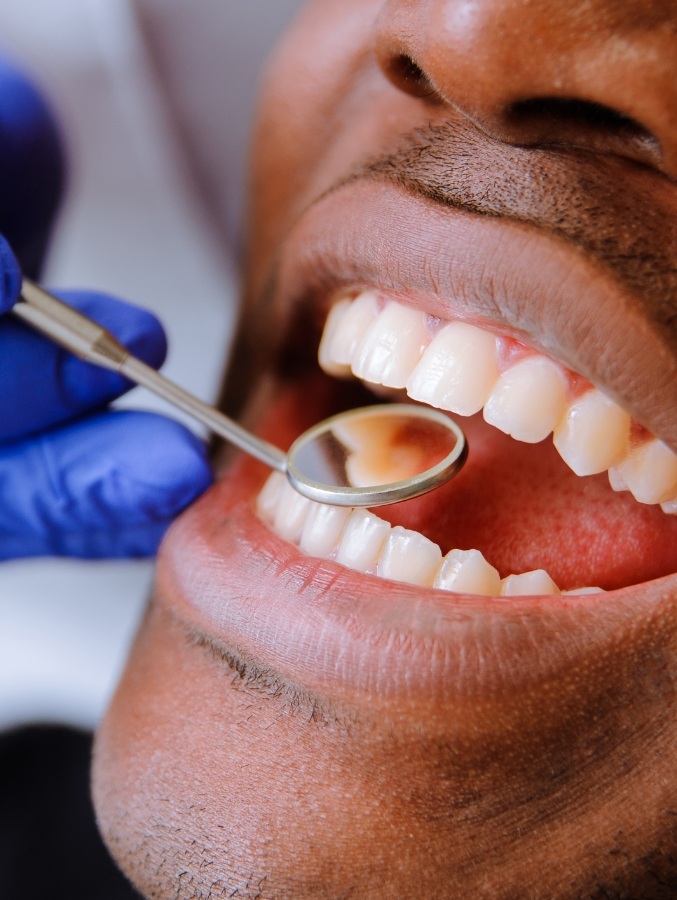 Our team is proud to offer patients treatment options that blend restorative improvements with cosmetic value including all-ceramic restorations. These customized crowns, bridges, inlays, and onlays are designed to match your existing smile perfectly, allowing patients to smile with complete confidence again. Better yet, we implement digital shade determination technology to ensure even more precise results.
In addition to their lifelike appearance, other benefits of all-ceramic restorations include:
In many cases, the quality materials used allow for more conservative preparation and placement meaning more of your remaining natural tooth structure is preserved.
There are no metallic materials present in all-ceramic restorations, which is good news for patients with related allergies and sensitivities.
All-ceramic restorations offer needed durability while providing more comfort and less oral irritation in the long run.
Teeth Whitening
Dental discoloration and stains can occur for several reasons from diet and poor oral hygiene to unavoidable factors like age. At our office, patients restore much-needed brightness to their smiles with at-home whitening solutions. Dr. Koch is proud to offer the state-of-the-art KoR Deep Bleaching system, which helps teeth stay whiter for the long-term and minimizes sensitivity.
Learn More About Teeth Whitening
Invisalign® Clear Braces
Many adults dream of straight teeth, but the aesthetic sacrifice and extreme time commitment of traditional braces is just too big of a hurdle for them. If this is the case for you, talk to our doctors and staff about Invisalign treatment. Instead of noticeable brackets and wires, Invisalign consists of clear, plastic aligners, each one designed to represent a different stage of your smile's transformation. They're very subtle when worn offering a natural appearance, and their removable nature means you can still enjoy your favorite foods. In just 12-18 months, you could be enjoying the improvements.