Dental Implants – Cary, NC
The Ultimate Tooth Replacement Solution
If you're suffering from tooth loss, you're not alone. In fact, it's estimated that an astounding 178 million Americans are missing at least one tooth. Now, dental implants are widely considered to be the most ideal solution and it's easy to see why. In addition to having a 95% success rate, dental implants in Cary closely mimic the appearance and function of natural teeth and feature lifelike stability. And with advanced training and experience, Dr. Darren Koch can handle the entire restorative process after the implants are placed by an oral surgeon or periodontist. Want to know how implants can benefit you? Give us a call today to schedule a consultation!
Why Choose Darren G. Koch, DDS, PA for Dental Implants?
Partnered with Expert Oral Surgeons
Dentist That Emphasizes Quality
Dental Team That Helps You Feel at Home
What are Dental Implants?
Dental implants are a revolutionary tooth replacement solution that accounts for the entire missing dental structure, which includes the roots. They are essentially metal posts that are meant to be placed in the jaw and join with the bone. Implants can be used to support single crowns, bridges, or even full dentures; the number of implant posts you get depends on the type of restoration they'll support, and that in turn depends on how many teeth you've lost.
The 4-Step Dental Implant Process
The dental implant process is completed in multiple phases, starting with an initial placement surgery, and finishing with a restoration several months later. With advanced training and technology, Dr. Koch will work closely with an oral surgeon or periodontist to plan the surgical placement of your dental implants.
The in-office surgery usually takes 1-2 hours per implant and involves placing a biocompatible, titanium post into your jawbone. Then, over the course of the next several months, your bone will "fuse" with the implant via a process called osseointegration.
Once the osseointegration phase is complete, which typically takes 3 to 4 months, you'll come back for your implants to be restored with new prosthetic teeth. Regardless of whether you're getting a crown, bridge, or denture, Dr. Koch will create a strong, beautiful restoration so that your new smile looks and feels fantastic.
Benefits of Dental Implants
Dental implants aren't the only possible solution for missing teeth, but they do provide several unique benefits thanks to their ability to mimic your missing tooth roots. There are several reasons why Dr. Koch often recommends dental implants over traditional tooth replacement methods. Are you trying to figure out whether dental implants are right for you? To help you make your decision, here's a look at several of the advantages that dental implants can bring with them.
Day-to-Day Benefits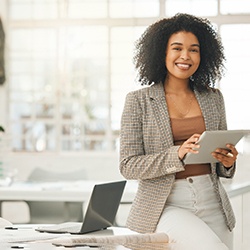 Dental implants can help improve your everyday life in a variety of ways. Here are just a few examples:
Superior Function and Chewing Strength: Just like the roots of natural teeth, dental implants are fused with the surrounding jawbone, allowing them to provide enhanced chewing power. This means you can eat hard, tough, or crunchy foods with ease. With the superior function of implants, you'll be able to eat your favorite foods without worry.
Confidence from Having a Beautiful Smile: Your new dental implants will look so much like your own teeth that no one will know you lost teeth to begin with. And since they're so stable and secure, you won't have to worry about embarrassing slips the way you would with a denture. While a dental bridge or partial denture will replace the missing crowns of your teeth, nothing will look or feel as natural as dental implants
Simple Maintenance: Are you worried that once your teeth have been replaced, you'll have to start learning complicated new oral hygiene practices? This very much won't be the case with dental implants; you can give them the same kind of care that you would your natural teeth, such as brushing them twice a day.
Health Benefits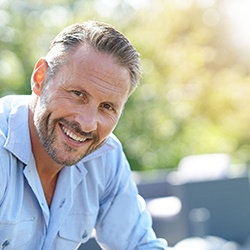 Having dental implants placed can be good for your oral health in the long run for the following reasons.
Preserve Your Jawbone and Facial Structure: When a tooth is lost, the body responds by slowly beginning to "resorb" the jawbone that once surrounded the root. Since a dental implant takes the place of the missing tooth root, it can help preserve the jawbone. This not only benefits your long-term oral health but also helps you maintain a more youthful appearance after tooth loss.
Keep Your Natural Teeth Safe: Teeth have a tendency to shift whenever there's empty space in the mouth. Having dental implants placed to completely fill any gaps in your grin will help keep your remaining teeth properly aligned.
Lower Risk of Oral Health Issues: As noted above, dental implants are very easy to take care of. This can indirectly benefit your oral health by making it easier for you to get rid of the harmful bacteria that can cause problems for your dental implants and the rest of your smile.
Long-Term Benefits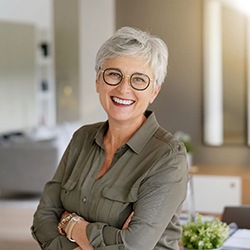 There are several long-term benefits of dental implants that are worth keeping in mind when comparing them to other forms of tooth replacement:
Highly Successful: Studies have shown that dental implants maintain a success rate of 95% even after they have been in the mouth for two decades.
Longevity: Are you not looking forward to having to get a new dental bridge or denture every 7 to 10 years? Dental implants are much less likely to need replacement since they can last for decades.
A Wise Investment: The fact that dental implants don't need to be replaced as often as dentures and bridges means that they can end up saving you a lot of time and money in the long run.
Indications for Dental Implants
Dental implants in Cary are very versatile and can be customized for your needs. Using highly accurate scans of your implant, Dr. Koch will complete your new smile with a custom-made restoration. Depending on the number of teeth being replaced, implants can support dental crowns, bridges, partial dentures, and even full dentures.
Missing a Single Tooth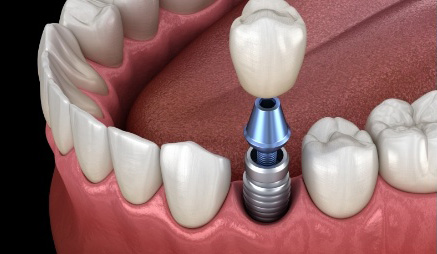 If you're missing just one tooth, a single implant will secure a customized dental crown to restore your smile. For single tooth replacements, Dr. Koch uses all-ceramic crowns to provide high-quality restorations that look like natural teeth.
Missing Multiple Teeth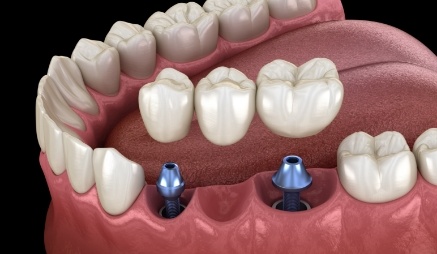 One or two dental implants are generally used for patients who are missing multiple teeth in a row. In these cases, Dr. Koch will create an implant-supported bridge, or a row of synthetic teeth that are anchored by implants. In addition to providing more strength than a traditional bridge, these implant-supported restorations last longer and are easier to clean.
Missing All Teeth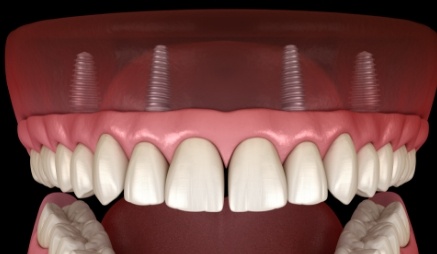 If you're missing all your teeth on the top or bottom, an implant denture is a fantastic choice. Dr. Koch will create a high-quality, custom-made denture that will attach to the implants. This provides you with much more strength and chewing power compared to traditional dentures and, since you won't have to worry about dislodgement during meals, more confidence as well.
Learn More About Implant Dentures
Understanding the Cost of Dental Implants
Dental implant treatment plans can vary quite a bit depending on many factors, including how many implants are needed and whether preliminary procedures such as extractions or a bone graft are necessary or not. That's why the best way to get an idea of your individual cost is to schedule a consultation so Dr. Koch can evaluate your needs and determine what your treatment plan would include.
With that said, we can say with 100% confidence that implants are one of the best investments you'll ever make. In addition to giving you a smile that feels incredibly natural, you'll be able to enjoy your new teeth for a lifetime and eat all your favorite foods with ease.
Dental Implant FAQs
Are you considering dental implants in Cary? Do you feel confident moving forward with treatment? Do you feel you're fully informed about the entire process? Many patients who have chosen dental implants to replace their missing teeth come to us with multiple questions, all of which Dr. Koch and our team will happily answer. No matter where you are in the decision-making process, we want you to have all the information you need to ensure you are making the right choice for your dental health. Below are common questions we've received from patients about dental implants. Please review the following information, and if you do not see your question listed or would like to schedule an appointment, contact our dental office today.
Is it possible to develop an infection after having dental implants placed?
Yes, but it is very rare. Dental implants are just like any other type of dental surgery in that there is a risk for potential complications. Because the process involves surgically placing these titanium posts into the jawbone, it requires opening the gum tissue and exposing the underlying bone. Once they are put into place, you should have no issues other than some mild to moderate soreness and/or discomfort while recovering at home. However, it is possible there is a slight chance you could develop an infection that would require you to undergo additional treatment. There could also be nerve bruising that results in temporary numbness of your lips, cheeks, or tongue.
How long will it take for my dental implants to heal?
Each patient is different, so it's important not to base your recovery time off of someone else's experience. On average, you can expect to spend 3-4 months healing at home after your implants are firmly in place. If you require a bone graft before undergoing dental implant placement, your timeline for receiving your finalized restoration will take longer because of the added healing needed to ensure a firm foundation for your implants.
Can dental implants fail?
Yes, it is possible for dental implants to fail, but it is very rare. Dental implant placement carries a high success rate of 95% or more. When seeing a trusted professional who exhibits proven experience or works closely with specialists who are equipped and trained to surgically place implants, you can expect your treatment to be a success.
However, there are instances when implants do fail, some of which include:
An improperly placed dental implant
An infection within the bone and soft tissues
Smoking or using tobacco products while recovering at home
A compromised immune system
Can I switch from dentures to dental implants?
Many patients have found great success by saying "so long" to their dentures and hello to dental implants. But before you set your sights on this transition, your dentist in Cary will need to perform a thorough examination of your oral cavity and facial structure to determine if you are an eligible candidate. If you have good oral health, do not smoke, and have adequate bone density, making the switch should not be a problem. However, if your jawbone density is insufficient, it will be necessary for you to undergo a bone graft to help strengthen the weakened areas of your jawbone.