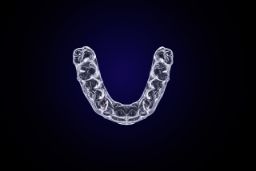 Invisalign was created around 20 years ago and has given more than 6 million people a smile they love. Not to mention that it has a 96% patient satisfaction rating! Clearly (no pun intended), this invisible alternative to metal braces has been incredibly popular. Now, a new kind of technology has been developed that makes it even better: OrthoPulse. It's not only been proven as safe and effective, it's also incredibly easy to use. If you want to see results from Invisalign in Cary as quickly as possible, keep reading to find out how OrthoPulse can help!
What Is OrthoPulse and How Does It Work?
OrthoPulse is an FDA-approved treatment that accelerates orthodontic treatment through the use of low-level light waves. It's done from the comfort of your own home in just 10 minutes a day of wearing a silicone mouthpiece, which looks similar to an athletic mouthguard and is smooth and comfortable.
As OrthoPulse emits warm, comfortable light waves, it stimulates the jawbone around each of your teeth. This makes it much easier and faster to move your teeth into their correct positions and significantly speeds up your orthodontic treatment. In fact, you'll get your results up to 50% faster. Since the average treatment time for Invisalign is 12-18 months, OrthoPulse can deliver the same results in just 6-9 months!
What Are the Benefits of OrthoPulse?
OrthoPulse offers many different benefits, including:
It's hassle-free. You can wear your OrthoPulse mouthpiece in the morning while you get ready for work, when you relax on the couch at night, or during your lunch break.
Since you'll be done with treatment so much faster, you'll spend less time in aligners and won't have as many progress visits.
Although Invisalign is already very convenient, it still requires a little extra time and effort each day. With OrthoPulse, you'll be able to get back to normal life much faster.
It's safe and reliable. In fact, the light energy used by OrthoPulse has been successfully used in medicine for over 60 years.
Is OrthoPulse Right For You?
OrthoPulse works beautifully for anyone in orthodontic treatment who wants their results fast. Aside from that, the only requirements are committing to wearing the mouthpiece for 10 minutes each day and caring for it properly by keeping it cleaned and charged.
Once you've decided to invest in your smile with Invisalign, why not enjoy the payoff even faster? With OrthoPulse, you can!
About the Author
Dr. Darren Koch has practiced dentistry for 20 years and graduated with honors from the University at Buffalo. He's thrilled to offer his patients OrthoPulse as a way to safely and reliably accelerate their orthodontic treatment. If you'd like to get your Invisalign results as soon as possible and have any questions, you can reach Dr. Koch via his website.