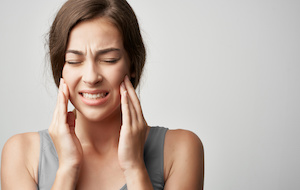 If you're like many families, you probably have a first aid kit tucked away for medical emergencies. If you keep bandages and tweezers on hand for a sprained ankle or hurt foot, why not do the same for your teeth and gums? Preparing a dental emergency kit now can help you keep your cool in the event of an injured tooth, gum, or lip. Keep reading to find out what to pack. 
1. Basic Supplies
Some of the most important items in a dental emergency kit may also be found in your regular first aid kit. They include:
Rubber gloves, which you will want to wear to help avoid spreading germs and infection. 
Dental mirror, which is helpful for seeing in the dark corners of the mouth. Choosing one with a light attached, or having a flashlight on hand, will help you see the problem. 
Dental floss, which you should have anyway, can help to remove large bits of food that can cause discomfort when they become trapped between the teeth. 
2. Wound Care
If the mouth is bleeding, you will need supplies to tend to the wound until you can reach your dentist's office. These items include:
Cotton balls or gauze to place on top of the wound and/or to cushion the cheek beside a broken tooth. 
Rubbing alcohol for cleaning the wound. 
Salt, which you can add to warm water to create an antiseptic mouth rinse to use after an injury. 
3. Pain Relief
Dental emergencies are almost certain to cause discomfort, and you will want to be prepared to ease the pain as soon as possible. Make sure to include the following:
Orajel, which is a topical ointment that you can rub on the gums to provide cooling relief.
A cooling pack, which can help to reduce swelling after sustaining trauma to the mouth. The cool sensation can also provide pain relief for an aching tooth. 
Ibuprofen, which helps ease pain caused by a dental injury. Ibuprofen is a better choice because aspirin is an anticoagulant and can cause issues if you are bleeding as a result of your dental injury. 
4. Considerations for Braces and Dentures
If you have someone in the family who has braces or dentures, there are a couple of extra things you may want to include in your emergency kit.
Dental wax, as it can help to soothe irritation caused by a dental bracket rubbing against the cheek.
A denture repair kit, which can be found at most pharmacies, can help you temporarily repair the denture to make it usable until you can reach your dentist's office.
And there is one bonus item – your emergency dentist's phone number! Get in touch with their office as soon as possible to get out of pain and on with your life.
Meet the Dentist
Dr. Darren Koch received his Doctor of Dental Surgery at The University at Buffalo and then went on to earn an Advanced Education in General Dentistry certificate. He continues to stay up-to-date on the latest advances in dentistry, which helps him provide excellent routine dental procedures as well as quality, informed care in a dental emergency. To learn more about how you can be prepared for the unexpected, give Dr. Koch's office a call at (919) 859-6633.