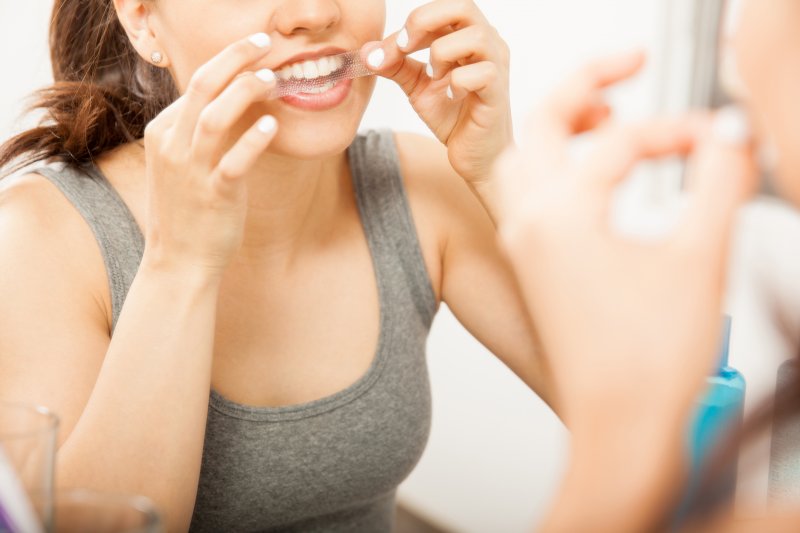 All it takes is one quick Google search or look at TikTok to find a seemingly endless number of "tried-and-true" whitening products. But do they work and, more importantly, are they safe? After all, there is no room for error when it comes to your smile, and the last thing you want is to damage your enamel, resulting in further discoloration. With this in mind, keep reading to learn which teeth whitening products really work.
So, Do Over-the-Counter Whitening Products Work?
Although some patients find mild success with over-the-counter whitening products, they typically deliver lackluster results for two reasons: one-size-fits-all trays and diluted whitening agents. In addition to applying the product unevenly, the store-bought kits don't take into consideration important factors like the cause of your discoloration and your existing restorations. Plus, your saliva dilutes the already weak whitening gel further, rendering it virtually useless.
The Dangers of At-Home Remedies
Social media is filled with countless influencers dealing out dental advice, like using charcoal or rinsing with hydrogen peroxide to whiten your teeth. However, methods like these have not received approval from the American Dental Association and have no scientific backing. Plus, overuse of harsh abrasives and chemicals can lead to enamel erosion, leading to more discoloration and dental problems like cavities. That's why you should always speak to your dentist about the products you are using on your teeth first!
Why Professional Teeth Whitening Is the Best Option
Although at-home remedies and over-the-counter kits can't be relied on, professional whitening treatments certainly can! To start, they are administered by a licensed dental professional who has an extensive understanding of your oral health. Each treatment is 100% customized, taking into consideration the cause, the extend of your discoloration, and your smile goals. From there, powerful, effective, safe whitening agents are used to blast away surface stains and reveal the bright smile you've been wanting. In short, with a talented cosmetic dentist in your corner, you'll enjoy significantly whiter teeth without compromising your oral health!
If your teeth are beginning to look yellow or gray, don't gamble your valuable time and money on ineffective teeth whitening products. Instead, get in touch with your cosmetic dentist to discuss your treatment options!
About the Author
Dr. Darren Koch graduated from The University at Buffalo with his Doctor of Dental Surgery degree (in the top 15% of his class, too!). From there, he completed a one-year advanced general dentistry residency at UNC-Chapel Hill to expand his expertise. Now, he has roughly two decades of experience helping nearby patients achieve their smile goals! To stay abreast of the latest techniques and technology, he maintains an active membership with multiple professional organizations, including the American Academy of Cosmetic Dentistry (AACD). If you'd like to learn more about professional teeth whitening treatments or would like to schedule an initial consultation, don't hesitate to visit his website or give him a call at 919-859-6633.