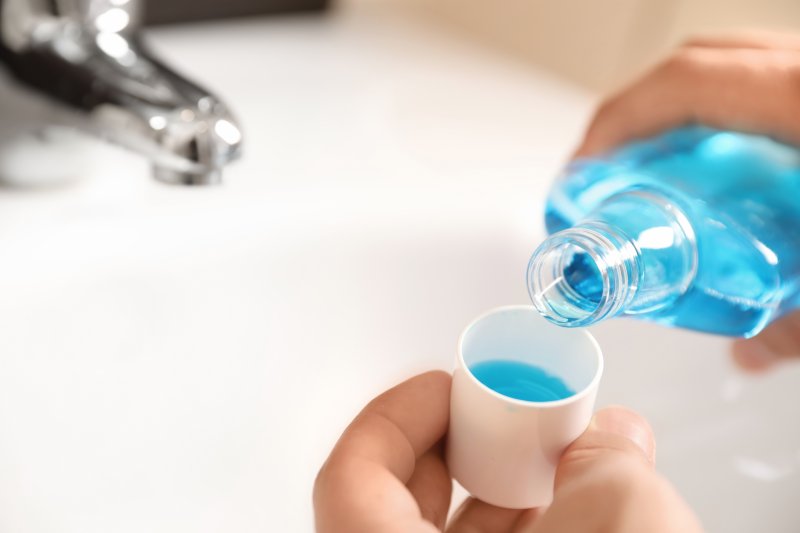 People often underestimate the positive aspects of mouthwash. While brushing and flossing seem to be the two things most dental professionals talk about when discussing oral hygiene, rinsing is equally as important because of its many benefits. Because COVID-19 remains a problem throughout the world, your dentist is working to identify ways in which you can better protect yourself as well as your dental team, one of which is to perform a rinse before an appointment. How is this being accomplished? Read on to find out.
Is Mouthwash Strong Enough to Kill the COVID-19 Virus?
As much as health officials and oral hygiene companies that produce mouthwash would like to say "yes," unfortunately, this is not true. Most solutions only consist of 20% alcohol, which is not enough to eliminate the germs associated with the virus. However, mouthwash is strong enough to rid the mouth of harmful bacteria that can cause bad breath, plaque, cavities, tooth decay, teeth stains, and gingivitis (the early stage of gum disease).
Why It is a Necessary Safety Protocol for Dental Offices?
Although the daily use of mouthwash cannot eliminate COVID-19, your dentist has a specific reason as to why this course of action must be taken before an appointment.
Oral health problems such as gum disease, tooth decay, and cavities can cause the immune system to weaken over time, making it much more difficult to combat an infection or virus like COVID-19. If you suffer from any of these, you are putting others at risk because of the increased bacteria in your mouth.
To eliminate as many viruses and bacteria as possible and prevent the potential spread, rinsing your mouth is a great way to protect those among your dental team. It is also a great way to keep your oral health in better shape and avoid many of these common problems often experienced by most adults in the United States.
As dental offices begin to reopen across the country, additional safety protocols are being put into place to ensure everyone who arrives for dental care remains healthy and protected. If you have questions about how your dentist is preparing for your upcoming visit or would like to know more about what you can do to minimize the risk of potential exposure, don't be afraid to contact a member of your dental staff. They are available to answer your questions and assist in addressing any concerns you might have, especially during this uncertain time.
About the Author
Dr. Darren Koch earned his Doctor of Dental Surgery degree, graduating with honors in 2001, from The University of Buffalo. As a trusted dentist, he and his team believe in the power of preventive care. Apart from brushing and flossing, the act of rinsing can eliminate additional germs and harmful bacteria. Because of what mouthwash can do, he is requesting all patients cleanse their oral cavities before their appointments. As COVID-19 remains a threat, this quick and easy step will kill additional viruses that could potentially transfer onto a member of the team during a visit. To find out other ways you can better protect yourself as well as our staff, contact us at (919) 859-6633.