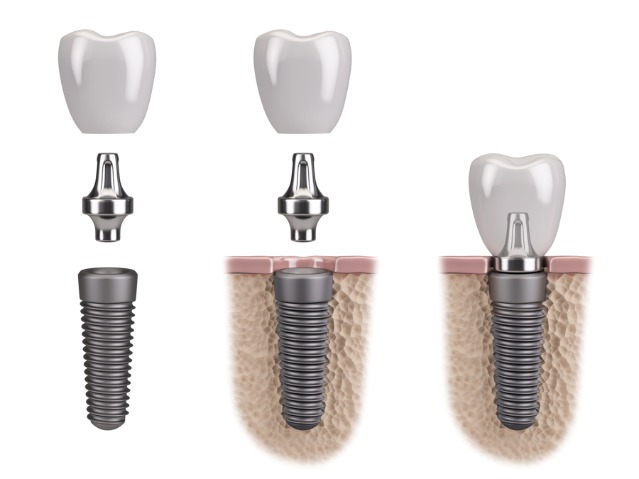 When it comes to having any kind of medical or dental procedure, it's always helpful to know what to expect beforehand. Especially with something like dental implants because there are various parts and multiple steps involved. But, as anyone who's gotten an implant will tell you, having the procedure done is well worth it because you'll have a solid, high-quality tooth replacement that looks and feels fantastic. And with basic maintenance, it can last a lifetime. Keep reading below to learn about the various parts an implant, how they function, and what kind of timeline you can expect from the procedure.
Each Part of a Dental Implant and Its Function
Implant – The implant itself is a titanium post that replaces the root of a missing tooth. This gives implants superior strength and stability compared to options that only replace the crowns of missing teeth.
Abutment – This is a type of adaptor between an implant and a prosthetic tooth. It connects the two pieces and provides extra stability.
Prosthetic tooth – The prosthetic tooth (or teeth) for implants may be a dental crown, bridge or denture. Since the color will be precisely matched to the rest of your teeth, your new smile will look very natural.
The Timeline For Getting Dental Implants
The first step of the process is a consultation to make sure that dental implants are the right treatment for you. From there, here's a basic timeline from start to finish:
Implant surgery – This is often done by a specialist such as an oral surgeon or periodontist who works closely with your dentist. It takes 1-2 hours per implant and involves placing the titanium post in the jaw where the root of a missing tooth would be.
Osseointegration – This refers to the time it takes (typically 3 to 6 months) for the implant to fuse with the surrounding jaw bone. A healing cap will remain on the implant, which allows you to eat and drink normally during this period.
Abutment – After the osseointegration process is complete, a dentist will attach the metal abutment piece to prepare the implant for restoration.
Final restoration – Lastly, the implant will be restored with a dental crown, bridge, or denture.
Getting dental implants is a multi-step process that's spread out over several months. But the payoff is a lifetime of having a beautifully restored smile that feels like your own.
About the Author
Dr. Darren Koch is a family dentist with nearly 20 years of experience and an honors graduate of the University at Buffalo. He believes that patient education is an important part of treatment and always explains each procedure to help his patients stay informed. If you'd like to know more about dental implants or have any questions, he can be reached via his website.