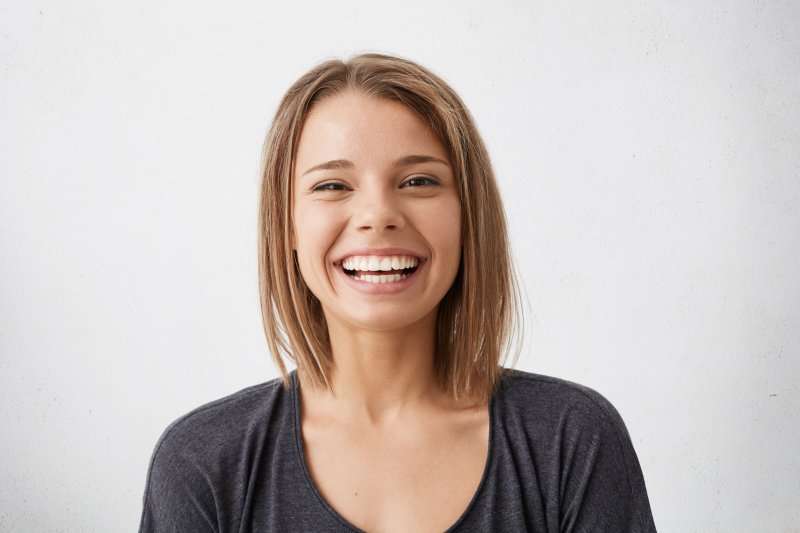 If your smile is worn, yellow, chipped, or gapped, you may be considering cosmetic dentistry to correct these issues and give your pearly whites a more gorgeous glow. Though there is a range of treatment options available, it may be difficult to determine what you need to have done to achieve your desired results. To help you on your journey towards a more aesthetically pleasing beam, read on to learn about six traits of a lovely, luminous smile.
Trait #1: Bright, White Teeth
Over time, your teeth may begin to look stained due to years of consuming tea, coffee, red wine, cola, and other highly pigmented foods and drinks. Enamel wear, whether it's natural or from bad habits like eating too much sugar, can also make your smile look discolored as more of the yellow dentin beneath becomes visible. Professional smile whitening can lift years worth of stains from your pearly whites and make them look bright and beautiful once again.
Trait #2: No Chips or Cracks
Chips and cracks in your teeth can make them look uneven and unhealthy. Fortunately, cosmetic dentistry can help. Treatments like porcelain veneers and cosmetic bonding can be used to cover up the cracks in your teeth and make them look more uniform. They can also make your smile appear to be whiter.
Trait #3: An Even Smile Arc
The arc of a person's smile refers to the way that the biting edges of their upper teeth flow with the curve of their lower lip. Ideally, your smile will create a slight upward curve and become narrower toward the ends. If your smile arc is misaligned, speak with your orthodontics about having it corrected.
Trait #4: A Healthy Gum Color
Healthy gums should be pink in color and are a sign that you're taking good care of your smile by practicing excellent oral hygiene at home. However, if you don't brush twice and floss once per day your gums may become red or swollen. This will affect how much of your gums is visible and may be a sign of gum disease. If you have this issue, speak with your dentist about treatment options.
Trait #5: Evenly Spaced Teeth
Big gaps between your pearly whites can make it look less visually appealing and may also make it difficult to properly brush and floss your smile. Orthodontic treatments like Invisalign can close the gaps and make your smile look healthier and more uniform.
Trait #6: Correctly Shaped Teeth
If your teeth are misshapen, this can give your smile an uneven appearance. Treatments like porcelain veneers and dental bonding can make slight adjustments to the shape of ones so that your smile has a more uniform appearance. If your teeth are severely misshapen, your dentist may use dental crowns to correct them.
As you can see, cosmetic dentistry offers a range of ways to improve the look of your smile. Contact your dentist to set up a consultation so you can learn more and be on the way to the gorgeous, healthy grin of your dreams!
About the Author
If you live in the Cary area and need an exceptional dentist, look no further than Dr. Darren G. Koch. With over 17 years of experience as a dentist, he offers a range of cosmetic dentistry treatments to fix problems with your pearly whites and give them a look you're sure to love. For more information or to make an appointment with Dr. Darren G. Koch, call his office at (919) 859-6633 or visit his website.