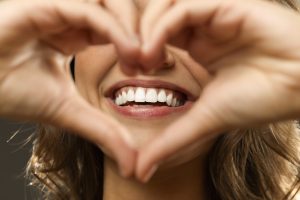 If you are unhappy with the appearance of your teeth, you are not alone. It is estimated, 50% of adults are concerned about how their teeth look. With your confidence directly linked to how you feel about your smile, an unattractive smile can cause a significant impact to your social and career engagements. Now, you can drastically transform your smile using a simple, noninvasive cosmetic procedure. As your cosmetic dentist in Cary, Dr. Koch offers porcelain veneers to give you the radiant smile you have always wanted.

What are Porcelain Veneers?
Porcelain veneers have quickly become the most preferred form of dental veneers because it offers a less invasive procedure. Veneers are thin false fronts that are bonded to the front side of the teeth to hide cosmetic flaws. Overall, veneers give the teeth a shapelier and more proportionate appearance.
How can Porcelain Veneers Help Me?
Veneers are very versatile, allowing them to be used to resolve a number of cosmetic flaws. Generally, as long as you have healthy teeth and do not have significant alignment issues, you can benefit from veneers. By attaching the false fronts to the teeth, your teeth instantly become whiter for a truly radiant smile. In addition, they can be used to hide chips and cracks while giving the teeth a shapelier appearance overall. Those who have abnormally shaped teeth or "gummy" smiles often choose veneers to get more attractive teeth. In some cases, they can also be used as an alternative to orthodontic treatments. Veneers can be used to make your teeth appear straighter, so you will have a more attractive smile without having to spend months undergoing orthodontic care.
What are the Benefits of Porcelain Veneers?
When compared to traditional veneers, porcelain has quickly become the preferred material. Porcelain very closely mimics the appearance of enamel. As a result, light will naturally reflect the surface of the veneers for a naturally bright smile. In addition, porcelain is thinner than other forms of veneers. This allows the procedure to be minimally invasive because less of the tooth is removed during the bonding process. With porcelain being durable and stain-resistant, you will have a flawless new smile that will last for several years with the right care.
How Can I Get Porcelain Veneers?
If you are ready for a dazzling new smile, you will need to schedule a consultation with Dr. Koch for porcelain veneers in Cary. Dr. Koch will evaluate the health of your teeth and aesthetics of your smile to create a customized treatment plan.
During the first phase of treatment, your teeth will be thoroughly cleaned. Then, a very small amount of enamel will be removed. By etching the teeth, the veneers will sit flush on your teeth and create a more secure bond. After the teeth are prepared, we will take impressions of your teeth to create your custom veneers. You will wear temporary veneers until your new smile is ready in a couple of weeks.
If you are ready to finally love your smile, it is time to schedule your consultation for porcelain veneers.