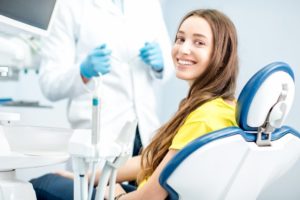 Chipping a tooth can be an alarming experience for anyone. And since chips can be large or small and may or may not be painful, it's sometimes hard to know if you should call an emergency dentist or not. In this blog, you'll find out if you need immediate care for a chipped tooth and learn about 3 possible treatments a dentist may recommend to restore your smile. Keep reading to learn more!
Should You Call an Emergency Dentist For a Chipped Tooth?
If you're in pain after chipping a tooth, call an emergency dentist to make the first available appointment. In addition to quickly relieving your discomfort, they'll also stabilize the tooth.
However, even a small chip that isn't causing pain needs to be addressed at your earliest convenience (for example, if a small chip occurs on a weekend, you should be fine to wait until Monday before calling). A chipped tooth is weaker than in intact tooth, which means it's more likely to break again. If that happens, the chance of a more severe break is higher, along with pain and sensitivity. Seeing a dentist sooner rather than later will prevent further problems from occurring.
How Is a Chipped Tooth Repaired?
Depending on the extent of the damage, an emergency dentist may recommend any of the following:
A tooth-colored filling – For small chips, a tooth-colored filling may be all that's needed. However, the location of the chip will be a factor here, as fillings on the front teeth have to withstand more biting force and may be more prone to breaking off. A dentist will account for that and other factors before making a recommendation.
Porcelain veneer – Porcelain veneers are thin, strong shells of porcelain that cover the entire front surface of a tooth and may be a good choice for small or moderate-sized chips. They're matched in color, size and shape to the rest of your smile and can last 10-15 years with proper care.
Dental crown – When a tooth has a more severe break, it may not be strong enough to support a filling or veneer. A dental crown will restore the tooth's strength and appearance. Also, a root canal may be necessary if the nerve of the tooth has been damaged. This not only relieves any pain but also prevents the need for an extraction.
Chipping a tooth is always an unpleasant surprise. By seeing a dentist right away, you'll have a healthy, restored smile and prevent bigger problems down the road.
About the Author
Dr. Darren Koch is a general and emergency dentist who provides high-quality, friendly and compassionate care. He offers a wide variety of procedures to treat any type of chip or break and always recommends the most conservative treatment possible. If you have a chipped tooth or have any other questions, he can be contacted by clicking here.