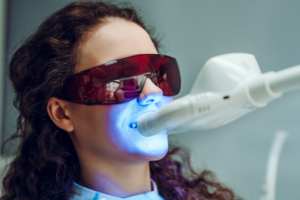 A bright smile is associated with youth, confidence, and success; however, not everyone has flawless teeth. Although imperfections can take many forms, tooth discoloration is a leading concern. Teeth come in many shades and tones naturally. If one of your parents has dark teeth, your smile is likely to match theirs. No amount of brushing will reveal whiter teeth. While you can't change your genetics, your cosmetic dentist has the solutions you need to revamp your pearly whites.
Causes of Tooth Discoloration
If you're embarrassed by stained or discolored teeth, many factors affect their color, like:
Genetics: Dark teeth can be hereditary, such as from the natural color of enamel or defects from underlying hereditary conditions.
Medications: Certain medications can give teeth a blue or grayish hue.
Poor Oral Hygiene: Subpar brushing and flossing habits can lead to brown or yellow staining.
Trauma: Trauma or damage to a tooth can cause it to darken.
Lifestyle Habits: Smoking and tobacco can lead to tar and nicotine stains.
Diet: Consuming foods and drinks with dark pigments can cause surface stains.
Age: Enamel gets thinner with age, which can cause the yellowish dentin underneath to be more visible.
While you could try OTC products or home remedies to combat stains, they don't contain professional strength whitening agents. Not to mention, not all types of discoloration will respond to whitening treatments.
The only way to achieve drastic, lasting results is with the help of a cosmetic dentist.
Treating Tooth Discoloration
Your cosmetic dentist will get to the source of your discoloration. They'll examine your mouth to determine the cause of your stains and what can be done to brighten your smile, like:
In-Office Teeth Whitening: A protective barrier is applied to the gums and lips before your dentist places a professional-grade whitening agent on your teeth. A special dental light activates the whitening agent, improving the color of teeth by up to 8 shades when used on surface and age-related discoloration.
At-Home Teeth Whitening: Your cosmetic dentist can give you everything you need to achieve in-office results with the convenience of an OTC solution. You'll use the kit for about 2 weeks to whiten your teeth gradually.
Veneers: Patients with discoloration that won't respond to whitening agents can benefit from veneers. They are made of porcelain, which is stain-resistant, so your new smile will stay bright. Besides covering stains, veneers can address other imperfections, like gaps and chips.
A stunning smile is possible, despite your DNA. You won't have to hide your teeth any longer. You can achieve a radiant smile using the latest solutions in cosmetic dentistry.
About Dr. Darren Koch
Dr. Koch earned his dental degree from The University of Buffalo and has regularly continued his education in advanced services, like cosmetic dentistry, periodontology, and oral surgery. He is a proud member of many professional organizations, including the American Academy of Cosmetic Dentistry. If you are ready to improve your smile, request an appointment through our website or call (919) 446-5992.