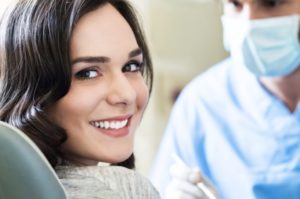 Cosmetic dentistry has taken the world by storm! In fact, it's estimated that within the last five years, the demand for cosmetic dental work has doubled, meaning that more patients than ever before are opting to enhance their pearly whites. And one of the ways they're doing this is porcelain veneers! These thin sheets, once bonded to your teeth, do an incredible job of masking any visible imperfections. But you might be wondering if receiving them can cause tooth sensitivity. Keep reading to learn more from your dentist about veneers and what you can do to manage any sensitivity that results from getting them.
Can Veneers Cause Tooth Sensitivity?
To put it simply, veneers can cause some tooth sensitivity, but it isn't a great amount. To make room on your teeth for veneers, your dentist will have to remove a very small amount of enamel from the front of your teeth (usually about half a millimeter). This is what allows the veneers to blend seamlessly with the rest of your natural smile. However, this is also what causes minor tooth sensitivity in some patients.
Despite the temporary sensitivity that's caused by receiving veneers, the treatment is actually quite effective for preventing future sensitivity. Once the veneers have been properly placed, they are essentially shielding your weakened enamel from things that cause discomfort like extremely hot or cold foods. It's also worth noting that if you're already missing too much enamel, you might not be an ideal candidate for veneers—only your dentist will be able to determine your eligibility.
How Can I Manage Tooth Sensitivity on My Own?
It's normal to experience mild sensitivity for a few days or weeks after receiving porcelain veneers; but if this persists for months, it might be a sign of an underlying issue. That said, if you've just received porcelain veneers and are struggling to alleviate the associated sensitivity, here are some tips to help:
Watch what you eat – Certain foods, including very hot or cold items, can naturally increase the amount of sensitivity you're experiencing.
Rinse your mouth – Gently rinsing your mouth with a warm saltwater mixture can help to decrease sensitivity, reduce any inflammation, and improve the pH levels inside your mouth.
Take over-the-counter pain relievers – Taking OTC pain medications like Tylenol or Ibuprofen as needed can also help to alleviate some minor soreness.
Have patience – It might take some time for you to fully adjust to your new veneers, so don't feel distraught if the first few days aren't comfortable.
Porcelain veneers are arguably one of the best cosmetic treatment solutions available, and the minimal amount of sensitivity that can accompany them is a small price to pay for the incredible transformation they deliver for your smile!
About the Author
Dr. Darren Koch received his DDS from the University of Buffalo and is a proud member of several professional organizations including the American Dental Association and the American Academy of Cosmetic Dentistry. His practice in Cary is thrilled to offer a wide range of cosmetic services including veneers! If you have any questions about veneers or would like to arrange a visit, you can contact the practice online or by phone: (919) 859-6633.