Advanced Dental Services & Technology - Cary, NC
Innovative Dentistry for an Enhanced Experience
Having to run around town visiting specialists can be time-consuming and expensive, especially if you have a big family with their own unique needs. That's why Dr. Darren Koch and his team are proud to offer a wide variety of services in one convenient, comfortable atmosphere where you feel at home including several specialized treatment options and technology that can't be found at just any practice. We work hard to give you and your loved ones plenty of reasons to smile! Contact us today if you have any questions or you're ready to schedule an appointment. We're located in Cary, NC, and patients from Fuquay Varina and other surrounding areas are always welcomed.
Sleep Apnea Treatment
Sleep apnea is a health condition that occurs when a patient's airway becomes partially or fully blocked when they're unconscious. This causes constant pauses in their breathing throughout the night, which lead to daytime exhaustion, severe headaches, higher blood pressure, increased risks of car accidents, and many other unpleasant consequences.
Many people don't realize they can turn to their local dentist for help with sleep apnea, but it's true! If you've been diagnosed, talk to Dr. Koch or one of his team members about the possibility of receiving a custom snore guard. This oral appliance is designed to slightly adjust the patient's tongue and/or jaw, keeping the airway unblocked and allowing for deep, uninterrupted rest.
Learn More About Sleep Apnea Treatment
TRIOS3 intraoral scanner
When our team decides to make an investment in future care, we look for a number of different things, but our rule of thumb is to make sure each technology we invest in allows us to offer patients better, more comfortable care that allows us the flexibility to change and expand in the future. The TRIOS3 gives us the opportunity to do just that. This versatile computer assisted design/manufacture (CAD/CAM) scanner offers the widest variety of treatment options, quick communication with dental labs and specialists, and makes care more conservative and comfortable. Scans using the TRIOS3 are quick and rescanning is easy. The images produced can be used for a number of treatment functions including:
Digital impressions used to craft any number of restorations, but these scans look like accurate visual representations of patients' smiles so they double as a an educational tool
When it comes to designing natural looking restorations, the TRIOS3 scans allow our team to accurately measure variations in color and precisely shade restorations to blend seamlessly
We are able to take intraoral photos of patients' smiles to use for education and treatment planning purposes making patients more involved in their care
Oral appliances are designed for optimal comfort and flexibility
Surgical guides and planning aids can be created for the most precise placement and positioning make surgical procedures faster and safer
Itero Element
As your dentist in Cary, Dr. Darren G. Koch strives to provide his patients with the highest level of care using groundbreaking technology. Among one of the several advancements you will find in our office is the iTero Element Intraoral Scanner. This revolutionary technology has already been used to create more than 1.8 million crowns, bridges, and dental implants. It also plays a valuable role in orthodontics. It has aided more than 3.2 million Invisalign scans and over 6.4 million orthodontics scans due to its capabilities to promote the treatment process. Now, you can benefit from this amazing technology to achieve superior results for comfortable and accurate results.
Air Abrasion
Sometimes referred to as "drill-less" restoration, air abrasion allows us to remove damaged or decayed dental structure in preparation for fillings or other restorations. In most cases, patients do not even need local anesthesia. Air abrasion can also be used to remove plaque and tartar deep in the grooves of teeth or gum tissue pockets.
Digital Photography
One of the most important advances in dental care over the last decade is the incorporation of intraoral photography into treatment planning. Our TRIOS3 system allows us to incorporate high quality intraoral images when planning for more advanced treatment, but for twice a year checkups, we use a Nikon or Canon intraoral cameras with uniquely crafted lenses and flashes that allow our team to capture quality photos of each patient's smile allowing them to see exactly what we do.
Digital Shade Determination
We are dedicated to offering cosmetically superior dental services, and one way we are able to offer more natural looking crowns, bridges, and other restorations is by using the VITA Easyshade Advance 4.0 digital measuring device. This device allows us to perfectly shade restorations more quickly and accurately than traditional methods which require our team to use various shaded pieces of plastic physically compared to patients' teeth. This method is limited by the dentist, assistant, or hygienists' eyesight and ability to see shade variations.
Electric Handpieces
We use air abrasion instead of drills in many cases, but it's not always possible. For those patients with decay or damage that necessitates the use of a more traditional drill, we've invested in electric handpieces that offer the same ability to remove even the hardest dental structure with a 50% reduction in the volume of sound compared with the high-pitched traditional air-driven drills. These handpieces also offer more consistent torque and speed which patients often find much more comfortable than traditional drilling.
Isolite
One of the most dreaded parts of any dental procedure for patients is the discomfort of having the mouth propped open for an extended time period. The Isolite system allows us to make this part of the treatment process much more comfortable by carefully isolating the cheeks and tongue, providing brighter illumination, continuously suctioning water and saliva, and allowing teeth to rest in the open-mouthed position. This device often allows our team to reduce treatment time up to 20%.
KoR Teeth Whitening
KoR Whitening Deep Bleaching is one of the most effective professional whitening options available. Comfortable and safe, the KoR system offers dramatic whitening results up to ten shades brighter over the course of treatment without causing discomfort for those patients with sensitive teeth or damaging soft tissue. Some of the many benefits of KoR Whitening Deep Bleaching compared with other professional whitening systems includes:
KoR is the only whitening system indicated for the treatment of dental discoloration caused by Tetracycline previously thought to be permanent staining
No need to change your eating or drinking habits getting rid of coffee, tea, wine, and darkly colored berries and other foods with periodic at home maintenance, KoR Whitening lasts a lifetime
Extremely low instance of dental sensitivity is recorded even by those who have previously been unable to whiten teeth due to sensitivity
Patient Education Movies
If you're interested in finding out more about any of our more complex procedures, our team would be happy to discuss them with you during a regular dental visit, but you don't have to wait for us. We have a Patient Education section that gives patients access to hundreds of informational movies concerning a variety of treatment options.
Surgical Loupes and Light
We use only the highest quality surgical loupes and lights. These may be the two most essential parts of any dental practice, but most patients aren't even aware of them. Dr. Koch uses Orascoptic HiRes Plus surgical loupes and Zeon Discovery headlight. You'll probably never know the difference, but these tools allow our team to offer higher quality, more precise care with 3.3x magnification and LED illumination.
Digital X-Rays
Digital X-rays are vastly superior to the traditional film process allowing our team to generate incredibly detailed and crystal-clear images of your smile. Instead of having to rely on a darkroom, these X-rays are instantly captured and transferred to our computer system in a matter of seconds, and radiation is reduced by 80-90% for a safer process overall. We can rotate and magnify the images on a large TV display, so patients better understand what they're seeing, and transferring them to insurance companies or other doctors is simpler than ever. We rely on both intraoral sensors and a state-of-the-art panoramic system for the most comprehensive results imaginable.
Soft Tissue Laser Treatment
Our advanced diode laser can take the place of the traditional scalpel in many procedures, such as biopsies, gum disease treatment, cosmetic gum recontouring, ulcer treatment, and more. Dr. Koch and his team members perform this care with extreme precision preserving healthy tissue where possible and promoting post-operative comfort. In fact, bleeding is minimized to the point that many patients don't even require sutures.
Complimentary WiFi
We appreciate you taking the time out of your schedule to invest in maintaining your optimal level of oral health, and we do everything we can to ensure your wait time is limited. However, for your comfort in the waiting room and operatory, we invite you to take advantage of our free WiFi to keep up with emails, tweets, Facebook, and more.
OrthoPulse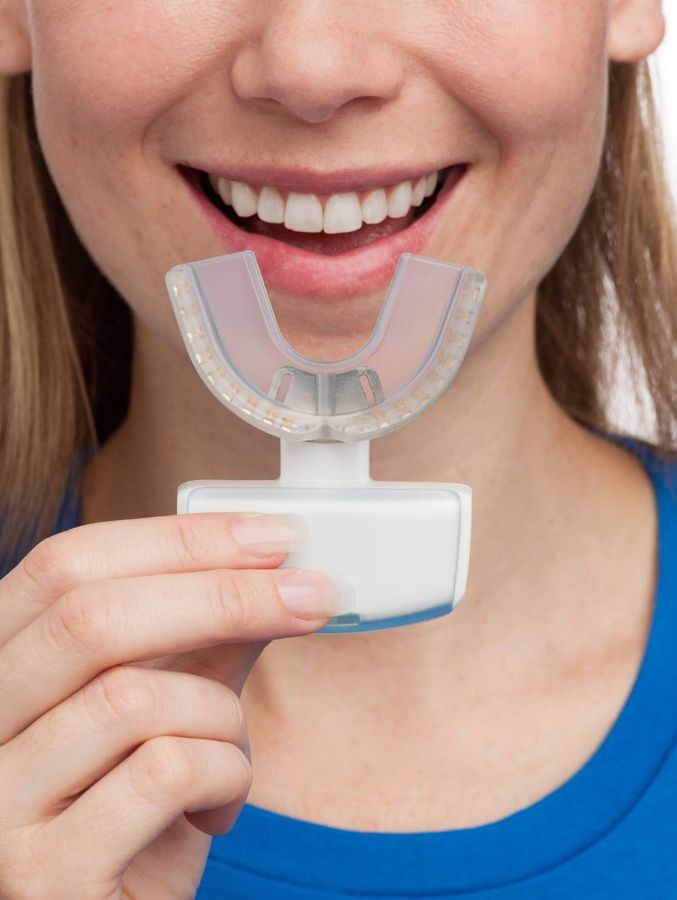 One of the advantages of Invisalign that our patients love most is that it can deliver great results in less time than traditional braces (usually in just 12-18 months). Now, with a breakthrough in orthodontic treatment called OrthoPulse, you can get your results even faster, in half the time it would normally take. This simple mouthpiece is worn for just 10 minutes a day and emits gentle light waves to the bone that surrounds the roots of your teeth, enabling them to move much faster than they would otherwise. OrthoPulse has been approved by the U.S. Food and Drug Administration, and has been proven to safely and reliably shorten your treatment time in either traditional braces or clear aligners like Invisalign.