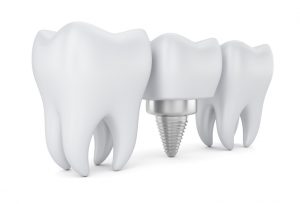 Due to advancements in dentistry, dental implants have quickly become the most preferred form of tooth replacement over the last 20 years. Now, dental implants offer over a 95 percent success rate for a permanent solution to treat tooth loss. The materials and procedures used for dental implants produce exceptional benefits with an option that most closely mimics the function and appearance of natural teeth. As an implant dentist in Cary, Dr. Darren Koch offers dental implants to treat various degrees of tooth loss.

What is a Dental Implant?
A dental implant is composed of three parts: post, abutment, and crown. A titanium implant post is surgically inserted into the jawbone to replace the tooth root while anchoring the prosthetic tooth in place. After the jawbone heals to the implant post, an abutment is attached to the post. The abutment holds the prosthetic crown to the post while allowing the gum tissue to heal for a natural appearance. About two weeks after the abutment is placed, the prosthetic dental crown is attached.
The number of dental implants used varies depending on your degree of tooth loss. Depending on how many teeth are missing, there are a few different options to replace your teeth with implants.
What Types of Dental Implants are Available?
When only one tooth is missing, a single tooth implant is used, which will include the use of one post, one abutment, and one prosthetic crown. However, if more than one tooth is missing in a row, a fixed multiple tooth replacement is used. Instead of replacing each tooth individually, a dental bridge is created to fill the space of the missing teeth. The bridge is then held in place with two implant posts that are attached at both ends of the bridge.
For those who have complete tooth loss on the top or bottom jaw, an implant supported denture is used. A full arch of teeth is anchored to the jawbone using an average of 4 implant posts. The dentures can be fixed or removable, depending on your preference.
How Can I Get Dental Implants?
To benefit from dental implants, you will need to see a dentist who specializes in implant dentistry. Are you asking yourself, where is an implant dentist near me? Dr. Koch in Cary specializes in all types of dental implants to restore your smile.
Dr. Koch will perform a thorough examination to see if you are a candidate for dental implants. In most cases, you can benefit from dental implants if you have healthy gums, adequate bone density, and minimal risk factors for infection. After it is determined that dental implants are right for you, Dr. Koch will create a customized treatment plan to replace your missing teeth.
If you are ready to benefit from the most preferred form of tooth replacement, choose dental implants for a lifelong solution to treat tooth loss. Contact Dr. Koch today to schedule your appointment for a dental implant consultation. He will restore your smile using the best advancements in tooth replacement.