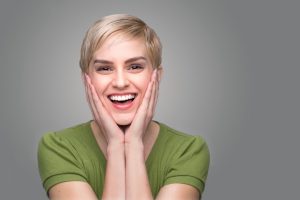 The appearance of your smile says a lot about you and how others view you. Unfortunately, very few people are born with a naturally attractive smile. Often, the teeth are misaligned. When alignment is not corrected during adolescence, many adults are left feeling self-conscious about their teeth. However, many do not want to undergo treatment to fix alignment, such as overcrowding, because they feel braces are only for kids. However, more and more adults are now undergoing orthodontic treatments with their cosmetic dentist in Cary due to certain advancements, such as Invisalign. Invisalign in Cary offers a nearly invisible treatment to resolve overcrowding.

Orthodontics for Adults
When you think about braces, your first images often involve a teenager with metal wires, brackets, and colorful rubber bands. This image causes many adults to simply live with overcrowded teeth. By doing so, you often do not smile as often as you hide your smile. However, overcrowded teeth cause additional complications as well. Teeth that overlap or are too close together make it difficult to maintain oral hygiene. As a result, your smile can be further impacted as tooth decay and gum disease develop. Now, you can promote your oral health while increasing your confidence with the most preferred orthodontic treatment among adults—Invisalign.
Invisalign does not use any metal wires or brackets. Instead, clear plastic aligner trays are worn over the teeth to move the teeth into their correct positons. The removable aligners are nearly indivisible, offering a discreet treatment that will often correct your smile within 12 months. Due to Invisalign, more and more adults are now actively seeking to resolve overlapping. In fact, one in four orthodontic patients are now adults.
Invisalign For Adults
Invisalign works by wearing custom-made aligner trays over the teeth. The trays are created in a series to gradually move your teeth into their correct positons. You will wear each tray in the series for about two weeks, at which point, you can switch to the next tray in the series right at home. This is the ideal option for busy adults because you will not have to visit the dentist for adjustments like with metal braces. Instead, just come into the office every few weeks so we can monitor the progression of your treatment.
On average, it takes about 12 months to complete the entire series of aligners. At the end of your treatment, you will have a dazzling straight smile with no confidence or hygiene complications due to overcrowding. To keep your new smile looking its very best, you will require the use of a retainer to prevent the teeth from moving back into their previous position.
Get a New Smile Today
Dr. Darren Koch is proud to offer Invisalign to his patients who want to resolve the complications of overcrowding. To determine if you are a candidate for Invisalign, you will need to undergo a consultation with Dr. Koch. Dr. Koch will perform the necessary examination to create a customized treatment plan to resolve your overcrowded teeth. If you are ready for a straight smile, it is time to contact our office to schedule a consultation.