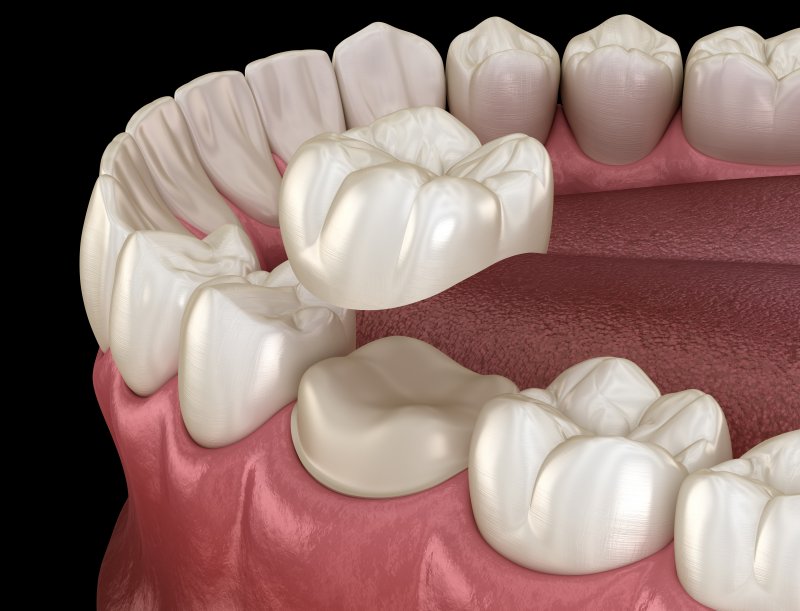 You may feel a bit nervous if you're about to get a dental crown. After all, many people think the treatment is painful. Pop culture tends to depict the crowning process as uncomfortable at best and terrible at worst. However, these assumptions are unfounded — getting a crown shouldn't cause pain! In fact, the real danger comes from putting off the procedure when you need it. Learn more in this summary of the matter from your Cary dentist.
How a Dental Crown Treatment Feels
A traditional dental crown treatment requires two appointments: the initial "preparation visit" and the later "final placement." Neither, though, will be painful or harmful.
Preparation Visit
For the preparation visit, your dentist will remove some of your tooth enamel. Doing so allows them to make room for your future crown. Still, the process won't hurt since your dentist will numb the tooth with a dental anesthetic.
The dentist will also use this time to take a dental impression, which will help lab technicians make your crown. This step won't hurt either, as it only has you bite into a soft (if poor-tasting) putty.
Final Placement
The final placement is when your dentist bonds the finished crown to your tooth. Your dentist will (once again) numb the area for the procedure so it doesn't feel anything. Just remember that the anesthesia wears off gradually, so you likely won't have sensation in your tooth until you return home.
Your dentist could also offer dental sedation for this visit if it's an option. That way, a sedative would keep you relaxed and even less likely to feel discomfort.
Why You Shouldn't Put It Off
Honestly, you're much more likely to feel pain if you avoid the crown treatment. Without it, your damaged tooth will keep breaking down with use. This process could lead to chips, cracks, and other dental emergencies. As a result, you'd experience sensitivity and soreness as the tooth's layers come apart.
In contrast, placing a crown over your tooth protects it from injury and possible infections. It thus helps extend the functional lifetime of the individual tooth and your overall smile.
Far from hurting you, your crown will work to prevent tooth-related harm. That being the case, try to look forward to the procedure with your dentist.
About the Author
Dr. Darren Koch is a dentist based in Cary, NC, having graduated from the University of Buffalo. He earned an Advanced Education in General Dentistry certificate for post-graduate training through UNC-Chapel Hill. As such, his specialties are preventive, cosmetic, and restorative dental treatments, including emergency procedures. He stays current with the latest dental knowledge through membership in the American Dental Association and similar groups. Dr. Koch currently practices at his self-titled clinic and is reachable by phone at (919)-859-6633.