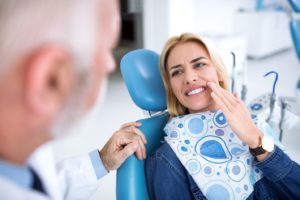 Dental injuries have a knack for occurring not only when you least expect them to, but also when it's incredibly inconvenient! That said, not every injury is considered a dental "emergency," and something like a chipped tooth might not seem very serious. However, even these seemingly innocent injuries can turn severe if left unaddressed, and you shouldn't count on them healing on their own. Visiting your emergency dentist in Cary is always going to be your best move! Here's why.
Common Causes of Chipped Teeth
Your teeth are strong, but they aren't invincible—and there are many things out there that pose a threat to them and lead to chipping and fracturing! Here are a few of the most common causes of chipped teeth:
Tooth decay that has formed cavities.
Bruxism, which is the unconscious grinding and clenching of teeth, often while asleep.
Eating disorders and excessive alcohol consumption, due to the contact between acids and your enamel.
Worn enamel due to old age and unavoidable daily wear and tear.
Physical injury to the mouth, often resulting from contact sports or accidents.
The symptoms of a chipped tooth typically include minor to moderate discomfort, swelling, and sensitivity along with a noticeable change in the tooth's appearance and functionality. This means that seeking care should be your top priority!
Why Chipped Teeth Require Professional Care
All instances of a chipped tooth require treatment, even if you aren't in any pain. Refusing to address the issue might encourage it to worsen or allow a more serious problem to develop such as an infection. Depending on the severity of your injury, your dentist can determine when you need to come in and how the issue can be effectively handled. While you're waiting for your appointment, they might suggest taking over-the-counter pain relievers or using a cold compress to alleviate your discomfort.
How Chipped Teeth Are Generally Treated
Some of the most common solutions for treating chipped teeth include things like tooth-colored fillings, dental crowns, veneers, dental bonding, and more—the method used is going to depend on the severity of the issue. For brutally chipped teeth, root canal therapy might be needed before a crown can be fitted. In the most extreme cases, a chipped tooth might need to be extracted if the damage cannot be repaired.
In any case, your dentist will always ensure that no matter what method is used, the issue is comfortably addressed, and you're provided with the appropriate aftercare guidelines.
About the Author
Dr. Darren Koch received his DDS from the University of Buffalo and has proudly served patients and families in the Cary, NC community for over 20 years. His practice is thrilled to provide an exceptional level of comprehensive care, offering all kinds of preventive, restorative, and cosmetic treatment options. If you have any questions about the article or you or a loved one has a chipped tooth that needs to be addressed, feel free to contact Dr. Koch through his practice's website or over the phone for further assistance: (919) 859-6633.