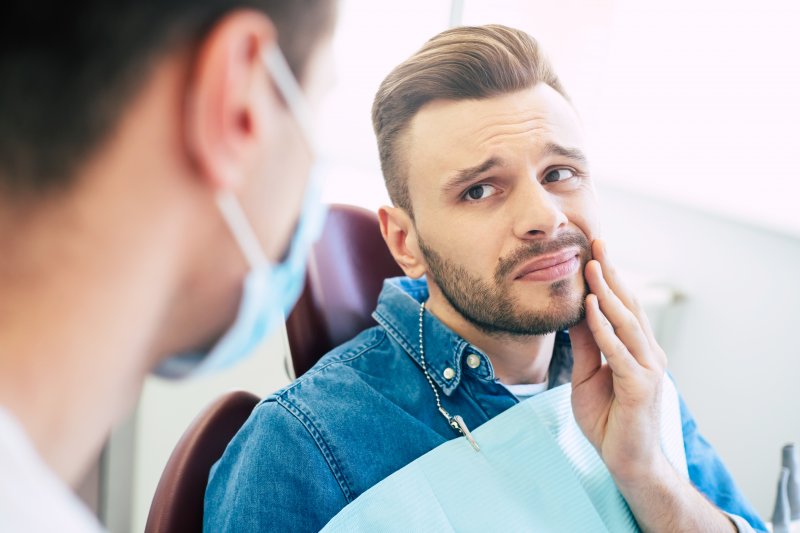 COVID-19 has come with a number of changes, including social distancing measures and face mask requirements. However, the stress of having our lives changed upside down has had an unexpected consequence: cracked teeth. In fact, one dentist shared that he has seen more tooth fractures in 2020 than the previous six years combined! Let's dive into the link between the Coronavirus and oral health problems.
The Link Between COVID-19 & Oral Health
Since the initial shutdowns in March of 2020, there has been a surge in oral health-related problems in patients of all ages and backgrounds. The common denominator? Pandemic-related anxiety. The stress around the uncertainty of this past year has caused more and more people to grind or clench their teeth, resulting in painful cracks and chips. Other COVID-related changes contribute as well, like not getting enough sleep, additional snacking due to working from home, and skipping routine dental checkups and cleanings because of the stay-at-home orders.
6 Tips for Protecting Your Smile in the Pandemic & Beyond
Fortunately, the negative smile-related effects of COVID-19 are largely preventable. With this in mind, make sure to:
Be intentional about relaxing your jaw throughout the day.
If you grind your teeth at night, wear a nightguard or retainer.
Don't snack on sugary foods between meals.
Prioritize your sleep health.
Implement a solid at-home oral hygiene routine.
Visit your dentist every six months for a dental checkup and cleaning.
How Your Dentist Can Help
Your dentist's role in your oral health isn't just to detect cavities. In reality, they are your greatest ally in keeping your smile in pristine condition, whether that means providing you with a custom nightguard, thoroughly cleaning your teeth at your six-month checkup, or conducting a root canal to save a badly decayed tooth. From routine visits to last-minute emergency dentistry, they are always a phone call away to ensure you can smile confidently and chew pain-free.
More than a year later, it is becoming evident all of the ways COVID-19 has affected our lives. If you are struggling with oral pain, think you may have a cracked tooth, or need to schedule a dental checkup and cleaning, then don't wait to get in touch with your dental team.
About the Author
Over the last nearly 20 years, Dr. Darren Koch has spent his days helping his patients achieve healthy, beautiful, fully functional smiles. At The University at Buffalo, not only did he graduate with honors, but he also received awards for his exceptional skill in restorative dentistry and periodontology. Today, he is committed to continuing education through memberships with professional organizations, like the American Dental Association and the American Academy of Cosmetic Dentistry. If you have a cracked tooth, are experiencing oral pain, or are simply overdue for your bi-yearly checkup and cleaning, visit his website or give him a call at 919-859-6633.