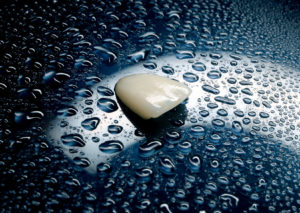 Imagine you are relaxing after dinner and pop a chewy caramel into your mouth. As you chat with your family, your tooth suddenly begins to feel strange. A realization hits you: your veneer fell off! While porcelain veneers are generally quite durable, sometimes they can still break or fall off. If you find yourself in this unfortunate situation, here are some tips to follow until you can see your dentist.
Step One: Collect the Pieces
If your veneer happens to break or fall off, immediately collect the pieces. If the veneer is still loosely attached to your tooth, carefully remove it. Wrap the veneer or pieces in soft tissue and place them in a container with a secure lid. This will prevent any further damage.
Step 2: Call Your Dentist
As soon as you have collected and secured the pieces of your veneer, give your dentist a call. If your newly exposed tooth is damaged, you may require emergency dental care the very same day. If your circumstance is less urgent, your dentist will schedule time to see you within the next few days. Your dentist will also give you personalized guidance on how to protect your smile until you make it to their office.
Step 3: Be Careful as You Wait for Your Dental Appointment
In most cases, a veneer that has fallen out is not a dental emergency. However, since a thin layer of enamel is removed in order to place veneers, your newly exposed tooth may be extra sensitive to hot and cold. Use caution when eating and drinking and avoid hot beverages like coffee and tea. You may also feel a rough sensation against your lips and tongue when a veneer falls off.
Step 4: Use a Temporary Fix if Needed
Reattaching a veneer should only be done by a dental professional. Unless directed by your dentist, do not attempt to reattach a veneer on your own. Doing so could end up further damaging your tooth or the veneer. If increased tooth sensitivity is really bothering you, try squishing a small amount of dental wax or sugar-free gum onto the surface of your tooth as a temporary barrier.
Step 5: Attend Your Dental Appointment
At your appointment, your dentist will examine your tooth to determine why the veneer fell off. Common reasons for veneers to break or fall off include teeth grinding, tooth decay, or bad chewing habits. These issues will need to be addressed first before your dentist can replace your veneer.
If the veneer is in good condition and still fits properly, your dentist may be able to clean and reattach it. However, if it has broken into pieces, you will most likely need a replacement veneer.
Overall, veneers are a reliable way to boost the appearance of your smile and do not fall off often. By practicing excellent oral hygiene and avoiding unnecessary wear and tear, you can expect your veneers to last for 10 to 15 years!
About the Author
Dr. Darren Koch has nearly two decades of experience transforming patients' smiles with cosmetic dentistry. He has completed advanced cosmetic training at UNC-Chapel Hill and is an active member of the American Academy of Cosmetic Dentistry. To learn more about how to protect your veneers, visit Dr. Koch's website or call 919-859-6633.