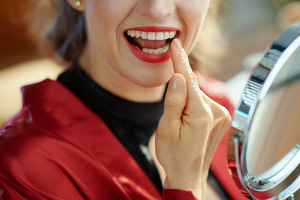 Cosmetic dentistry doesn't have to be a drawn-out process. Sometimes you can make the necessary improvements to your smile in as little as one appointment thanks to cosmetic bonding. This procedure is often highly recommended to patients who want to address a few specific dental issues. How exactly can cosmetic bonding help you create a better smile? Here are 4 examples of aesthetic imperfections that it can be used to correct.
1. Certain Gaps
By themselves, gaps between your teeth can be quite distracting. They can have health consequences as well, as they act as a space where food and harmful bacteria can be trapped relatively easily.
While Invisalign is typically recommended for dealing with gaps, sometimes cosmetic bonding can serve as a quicker, non-orthodontic solution. The resin used for the bonding process can be carefully sculpted in a way that makes the tooth look wider, which means there's less empty space to draw the eye.
2. Slightly Chipped or Cracked Teeth
Did you damage one of your teeth a little in an accident? Even if it's not serious enough to put the tooth in danger, it can still leave you with a less-than-ideal grin.
With cosmetic bonding, small chips and cracks can be hidden with composite resin that closely matches your natural tooth enamel. You can fix the problem in a single visit in a way that makes it appear as though there was never any damage to begin with.
3. Discoloration
Many patients consider teeth whitening first when they want to get rid of stains and discolored areas on their enamel. However, there are types of dental discoloration that often can't be addressed with whitening alone, such as the spots that are left by fluorosis.
Cosmetic bonding can be used to hide the stains that whitening won't work on. The resin used for the procedure can be custom shaded as needed, allowing your dentist to ensure that the treated tooth is the same color as those around it.
4. Misshapen Teeth
Sometimes you might have a tooth with a jagged appearance, or it might look uneven or crooked. Even if your other teeth look fine, one misshapen tooth can be enough to draw the wrong kind of attention to your grin.
When your dentist examines the tooth in question, they may decide that cosmetic bonding is a viable solution. The resin can be applied to specific parts of the tooth so it appears to match the rest of your smile better.
About the Author
Dr. Darren Koch has over 20 years of experience in both family and cosmetic dentistry. He belongs to a number of dental organizations such as the American Academy of Cosmetic Dentistry and the North Carolina Dental Society. Cosmetic bonding is one of the many smile-enhancing services that he provides at his Cary practice. To schedule a consultation with Dr. Koch, visit his website or call (919) 859-6633.