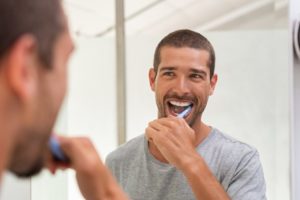 When someone wants to make dramatic changes to their smile, porcelain veneers are an outstanding choice. Whether you're correcting chips, stains, misshapen teeth, or even small gaps and minor crowding, veneers will give your smile a whole new appearance. Not to mention that they're long-lasting and durable and can be completed in just a couple of visits! But after getting your final results, you may be concerned about staining. Keep reading to learn how porcelain veneers actually resist stains and how to keep them looking great for as long as possible.
How Do Porcelain Veneers Resist Stains?
The surface of natural teeth is covered in microscopic "pores" that allow temperature and pressure to reach the nerve. Unfortunately, this porous surface can also become stained and discolored from things like tea, coffee, red wine, berries, and turmeric.
Porcelain veneers, on the other hand, are not porous and have a hard, glossy coating that doesn't absorb stain like natural teeth. This coating also reflects light the same way enamel does, so the results are not only stain-resistant but also look very natural.
So if you like to have a coffee every morning or a glass of red wine with dinner, you won't have to worry about your porcelain veneers becoming stained. And with a few good habits to maintain them, you'll keep your new smile looking great.
How Can You Maintain Your Porcelain Veneers?
Porcelain veneers are strong and durable and can last 10 to 15 years or more. But, like all dental work, they still require proper maintenance. Here are some tips to care for them over the long-term:
Get a checkup and cleaning every six months – These visits are an opportunity for a cosmetic dentist to catch and treat any small problems early on.
Wear a nightguard or sports guard as needed – Protect your veneers from chipping by wearing a custom-made nightguard for clenching and grinding, or a sports guard during athletic activities.
Avoid certain habits – Don't chew on ice, hard candy, pens, etc.
Chew mindfully – If you're eating something crunchy like an apple or carrot, cut it into smaller pieces so you can avoid directly biting into it with your veneers.
Use the right products – Non-abrasive toothpaste, such as gel formulas, won't scratch or dull your porcelain veneers. It's also a good idea to avoid whitening toothpastes because they tend to contain harsh abrasives.
Porcelain veneers are an outstanding way to achieve a beautiful smile. And with their stain-resistant properties and a few good habits on your part, they'll continue looking great for many years.
About the Author
As a general and cosmetic dentist with decades of experience, Dr. Darren Koch loves the art and science of dentistry. He often recommends porcelain veneers because of the many benefits they provide, including strength, durability, and stain-resistance. If you're interested in porcelain veneers or have any other questions, he can be contacted via his website.