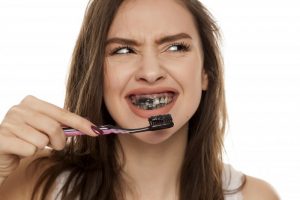 Have you heard about the most recent trend that involves whitening your teeth with charcoal? Images all over the internet show models and famous celebrities with blackened teeth, all swearing by the "positive" effects of charcoal. Unfortunately, this worldwide phenomenon isn't as great as it's cracked up to be. Instead of jumping on the charcoal bandwagon, listen to a dental professional who can explain why take-home teeth whitening kits are much more effective.
What Makes Charcoal a Popular Choice for Teeth Whitening?
If you're like most people, when you hear the word "charcoal," your mind probably begins to envision charcoal briquettes and some delicious-looking steaks on the grill top. Believe it or not, there is a difference between this type of charcoal and that which is "activated." What does that mean? Well, this type of substance is actually used to adsorb, meaning binding together, something that is not meant to be absorbed by the body.
EMTs and paramedics keep activated charcoal on hand should a person accidentally swallow a harmful substance. Once a person is given activated charcoal, it will begin to bind what was ingested and keep it from absorbing into your body.
So, why is it considered a popular choice for teeth whitening? Because it works like a binding agent, people believe it can do the same thing to stains on the teeth, thus, the reason so many use charcoal to "whiten" their teeth.
What Happens when Charcoal Comes into Contact with Your Teeth?
When brushing with charcoal, you might notice a slight difference in your teeth. While it does remove some of the stains on the surface of your teeth, it's not permanent. Researchers have been unable to conclude if charcoal actually harms your teeth, but that fact alone should keep you from wanting to try it.
While it may seem harmless, if the charcoal is too abrasive, it can wear away at your tooth enamel, and unfortunately, once it becomes too thin, you'll begin to experience tooth sensitivity and have problems consuming hot and cold foods and beverages.
Why is Take-Home Teeth Whitening More Effective?
If you're sad that charcoal isn't the magical substance you thought it was, there's still a way you can achieve a brighter, more beautiful smile. Your cosmetic dentist offers take-home whitening kits that will allow you to achieve safer, more effective professional-quality results.
Some of the benefits associated with professional teeth whitening include:
Increase confidence in your smile
Safer, more effective treatment
Customized trays that ensure a proper fit, unlike the one-size-fits-all products sold in drug stores
After taking digital scans of your teeth, he'll send them to a dental lab to have customized whitening trays created. This will ensure a proper fit for a complete whitening experience. Once you receive your custom trays and high-grade whitening gel, you'll need to follow your dentist's instructions as to how and when to wear them. Typically, within two weeks, after wearing your trays every night while you sleep, you'll notice your smile becoming several shades whiter.
Don't buy into the hype sold by celebrities. Let your cosmetic dentist help you achieve the smile you want and deserve with professional take-home teeth whitening.
About the Author
Dr. Darren Koch DDS, PA, understands the frustration that comes with a yellowed smile. This is why teeth whitening is one of the many cosmetic dentistry services offered by Dr. Koch and his team. As a trusted cosmetic dentist in the community, Dr. Koch graduated with the highest honors from The Rochester Institute of Technology with a Bachelor of Science degree in Biotechnology. He then went on to earn his Doctor of Dental Surgery degree, graduating with honors in 2001, from The University of Buffalo. To learn more about how he can help you achieve a more beautiful smile, contact us at (919) 859-6633.