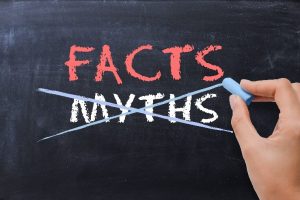 Are you tired of staring at a dull, discolored smile in the mirror? You know teeth whitening in Cary can revitalize your appearance, but you have heard a lot of negative information about the treatments. What if you found out many of the claims are not true? To help you make the right choice for your confidence, here are the facts you need to know about professional teeth whitening.

Myth: Teeth whitening damages your enamel.
Over the years, several improvements have been made to whitening systems to make them safer than ever. They do not damage your enamel when used correctly and under the supervision of your dentist in Cary.
Despite what you may have heard, your enamel is not stripped away to remove stains. Instead, a highly concentrated whitening agent containing bleach or peroxide deeply penetrates your enamel to resolve stubborn stains.
Myth: Teeth whitening hurts.
Tooth sensitivity was once a common complaint for those who underwent a whitening treatment; however, now discomfort is minimal. New advancements to the formulas that are used help to condition your teeth to reduce sensitivity. You may still experience some slight discomfort, but it will dissipate quickly.
Myth: Whitening treatments do not last long.
Over-the-counter whitening products will not give you drastic or lasting results, but professional treatments can. Your dentist can get your teeth several shades whiter with results that last with the right aftercare. To maintain your results, it is best to practice proper oral hygiene habits and avoid stain-causing factors, like darkly pigmented foods and drinks or smoking. If new stains start to develop, your dentist can give you a touchup kit.
Myth: All whitening systems are the same.
All whitening treatments are different. Among the biggest differences you will find are between those that are available at your local store and those from your dentist. Over-the-counter whitening products are ineffective because they do not contain professional strength whitening agents. Not to mention, they can irritate your teeth and gums.
Professional treatments are different because they contain a high concentration of a whitening solution to lift away stains. In addition, your dentist uses special protective barriers to reduce any irritation to your soft tissues.
Myth: I don't have time for a whitening treatment.
Now, you can get the results you want in as little as one dental appointment. If you prefer, you can also achieve professional quality results from the comfort of your own home. Your dentist can give you an at-home kit to whiten your teeth around your own schedule over the course of two weeks.
Get a Bright Smile Today!
You can turn back the hands of time with a professional whitening treatment. Contact your dentist today to reveal a bright smile.
About Dr. Darren G. Koch
Dr. Darren G. Koch has created healthy, beautiful smiles for more than 17 years. In addition to general dentistry, he helps his patients improve their confidence using cosmetic dentistry. He provides whitening treatments to combat tooth discoloration. If you are ready for a bright smile, contact our office today to schedule your consultation.