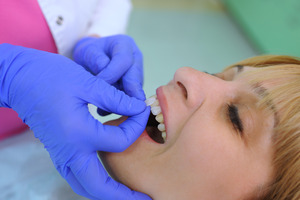 Are there multiple things you want to change about your grin? Thanks to veneers, it's possible to correct several aesthetic issues at once, letting you achieve the smile that you've been dreaming of with just one cosmetic treatment! However, there are several stages to the veneer process that you should be aware of before you agree to the procedure. Here's a step-by-step overview of what you can expect.
Step 1: Setting Your Smile Goals
Before anything else, you need to figure out exactly what kind of changes you want to make. Are there some cracks or chips you want to hide? Is there a discolored or stained tooth that needs to be brightened? Are there any unsightly gaps that bother you? Think carefully about the improvements your grin needs so that you can clearly communicate your goals to your dentist.
Step 2: Getting a Preview of the Results
Once your dentist has a firm grasp of the changes you want, they can show you what your smile will look like after veneers have been placed. This may involve briefly attaching mockup veneers to your actual teeth, but in other cases, a physical or digital model can be used instead. The idea is for you to get a realistic idea of what the final results will look like so that you can decide whether or not veneers are the best choice for your grin.
Step 3: Preparing Your Teeth
If you decide to continue with the veneer process, your dentist will have to prepare your teeth by removing a small amount of enamel. The goal is to preserve as much natural tooth structure as possible while still creating enough room for veneers that don't look too bulky compared to the rest of your smile. After preparations are complete, you'll be given temporary veneers to protect your teeth.
Step 4: Having Your Veneers Made
An impression of your teeth will be sent to a separate dental laboratory, where trained technicians will use it as a reference to design veneers that will look natural next to your other teeth. It usually takes a few weeks for the veneers to be completed and sent back to your dentist's office.
Step 5: Placing Your Veneers
When your veneers arrive, your dentist will schedule one final appointment to place them. After removing the temporaries, they'll use a mild acidic solution to prepare your tooth for an adhesive. Then, once any last-minute adjustments have been made, they will cement your permanent veneers to your grin.
Veneers might not be placed overnight, but the process will be well worth it once you see the final results in the mirror! If you've been thinking about getting veneers, reach out to your dentist today to take the first step.
About the Author
Dr. Darren G. Koch earned his Doctor of Dental Surgery degree with honors at The University at Buffalo. He's a professional member of the American Academy of Cosmetic Dentistry, and he frequently uses online webinars and forums provided by Spear Education to expand his knowledge of veneers and other cosmetic treatments. If you'd like to schedule a consultation with Dr. Koch to ask about the veneer process, you can contact his Cary practice by visiting his website or calling (919) 859-6633.