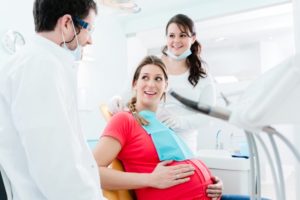 Ever since you found out you were pregnant, your health has been your top priority. You've been taking all of the recommended vitamins and staying away from anything that may harm the health of your unborn baby. However, one thing you may not have been aware of is that pregnancy comes with a higher risk of gingivitis – the first stage of gum disease. Since gum disease has been linked to complications such as low birth weight or pre-term birth, you'll want to avoid it at all costs. Keep reading to learn how you can recognize, prevent, and treat pregnancy gingivitis.
Common Symptoms of Pregnancy Gingivitis
Currently, about 50% of adults in the U.S. have gum disease to some extent. This condition – a bacterial infection of the gum tissues – can develop for many reasons, but the hormone changes caused by pregnancy (specifically the change in progesterone) can increase the risk. It most often occurs when a person is between two and eight months pregnant. Watch out for these signs:
Swollen or puffy gums
Bleeding after you brush or floss
Red or tender gums
Persistent bad breath or foul taste in your mouth
Receding gums
How to Keep Your Gums Healthy During Pregnancy
Although there isn't much you can do to alter your hormones, there are some basic steps you can take to keep your teeth and gums healthy. You can start these prevention tactics right away:
Floss every day (ideally after every meal, but once before bed should be fine).
Brush your teeth twice a day.
Each a diet rich in vitamin C, calcium, and other nutrients.
Try to limit soda, candy, and other sugary foods and beverages.
Visit your dentist for your six-month checkup and cleaning.
Don't Forget – Your Dentist Is Here to Help!
Preventing pregnancy gingivitis requires some effort on your part, but remember that your dentist is always happy to help. Whether you visit them for your routine checkup or because you noticed any of the signs listed earlier, your dentist can treat gum disease as soon as possible. Often, they'll do this with a dental deep cleaning, which involves using special instruments to remove plaque and tartar deposits below the gumline. They may also apply a topical antibiotic to eliminate the infection. That way, they can ensure your smile stays in great condition!
With all of the responsibilities that occur during pregnancy, it can be all too easy to put your routine dental appointments on the backburner. However, gum disease is a common concern for expecting mothers, so make sure to not let your smile's health fall by the wayside!
About the Author
Dr. Darren Koch has 17 years of experience as a family dentist in Cary, NC. Since obtaining his Doctor of Dental Surgery degree in 2001 from the University of Buffalo, he has completed advanced post-graduate training in pediatric dentistry. This means that he can care for your smile and then your little one's after they are born! He's more than able to help you prevent pregnancy gingivitis. To learn more, you can contact Dr. Koch by calling 919-859-6633.