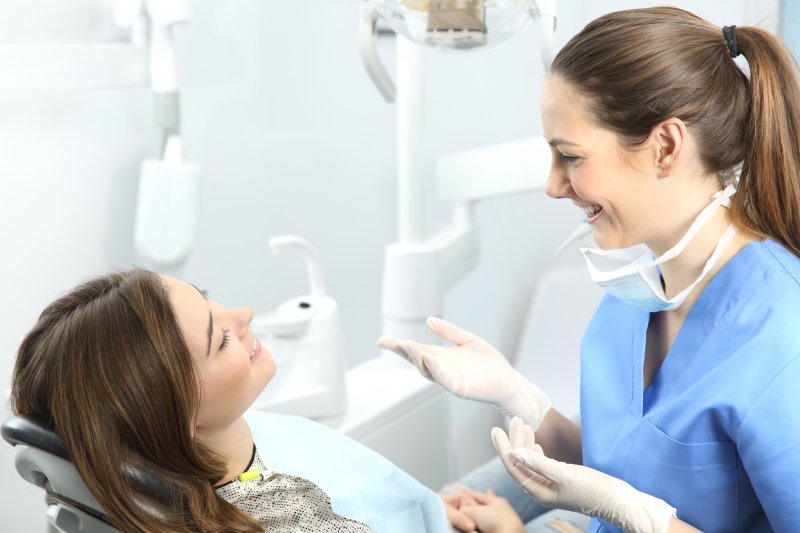 When it comes to dental checkups, many patients let their dentists do the talking. Doing so often seems like the easier route, especially for those who want the visit to end more quickly. However, you really should mention specific questions and concerns at these regular meetings. Otherwise, your oral health could suffer in the long run. That said, your local dental practice is here with some suggestions. Read on to learn four questions to ask your dentist during your next appointment.
"How is My Overall Dental Health?"
Technically, it's the dentist's duty to explain any dental issues you might have. Still, it's in your interest to know your less urgent mouth problems and how they affect your pearly whites. Therefore, ask your dentist to summarize your overall dental health — their answer will help you manage your day-to-day dental care.
"What Does This Pain, Sensation, or Discoloration Mean?"
Sometimes, you might be scared to bring up a symptom you've noticed regarding your dental health. Even so, don't make the mistake of dismissing a potential warning sign. Make sure to ask your dentist about your mouth's pains, sensations, and color changes. They can let you know if your tooth sensitivity or coloring points to something serious.
"What Toothbrush and Toothpaste Should I Use?"
As it turns out, your dental tools can greatly impact your dental health. Hard-bristled toothbrushes, for instance, can remove plaque but damage your teeth and gums if you're not careful. Similarly, some kinds of toothpaste are good at relieving pain from sensitive teeth. Given these facts, it'd be a good idea to ask your dentist about the ideal tooth cleaners for you. They'll know which products best meet your dental needs.
"When Should I Have Another Checkup?"
As you might know, many dentists suggest that patients have dental checkups every six months. However, this timing can vary depending on the state of your mouth. If your dental health is especially poor, a dentist may suggest you come in sooner for, say, a restorative treatment. Since that's the case, ask your dentist about appointment scheduling times so everyone is on the same page.
Though it can be tempting, don't clam up at your dental checkup. Instead, ask questions like those above so your smile can be as healthy as possible.
About the Dentist
Dr. Darren Koch is a family dentist based in Cary, NC, having earned his DDS from the University of Buffalo He is also a member of the American Dental Association and the North Carolina Dental Society. His specialties include preventive, cosmetic, and restorative dentistry and emergency procedures. However, he's now training in fields like Invisalign and sleep apnea therapy as well. Dr. Koch currently practices at his self-titled clinic and is reachable by phone at (919)-859-6633.