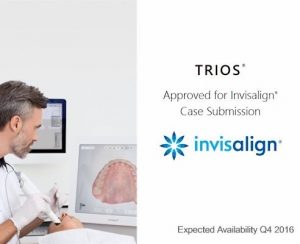 Are you ready for a more confident smile? If so, you can now get the straight teeth you've always wanted with clear braces. Invisalign is quickly becoming the preferred type of orthodontic treatment among teens and adults. Invisalign involves the use of clear aligners to move the teeth into their correct positions. Since the trays are clear, you'll benefit from a virtually invisible treatment with a shorter treatment time. If you're ready to discover the benefits of Invisalign in Cary, your dentist will determine if clear braces are right for you.

How Does Invisalign Work?
Invisalign offers a different form of orthodontic treatment when compared to traditional metal brackets and wires. With Invisalign, no wires, brackets or metal are used to move the teeth. Instead, we create custom-made aligner trays from impressions and photos of your teeth. We are also pleased to announce that our Trios3 scanner was recently approved for Invisalign case submission, so intraoral scans will soon replace conventional impressions as early as the fourth quarter of 2016.
Invisalign and your dentist will then develop a series of clear aligner trays, which are worn over the teeth for about 22 hours per day. You'll wear each upper and lower tray in the series for about two weeks before switching to the next set of aligners in the convenience of your home. Every 6 weeks you'll visit your dentist to ensure that your teeth are moving as planned, and to pick up your next three pairs of aligners. On average, it takes about 12 months to complete treatment, but simpler cases can be completed in as little as 6 months. Once your Invisalign treatment is complete, you will need retainers to preserve the alignment of your newly straightened teeth.
Who Can Get Invisalign?
Invisalign can be used to treat a wide range of alignment issues, such as crowding, spacing, flaring, rotations, and bite irregularities. However, if your alignment problems are severe or your jaw is skeletally misaligned, you may not be a candidate for Invisalign. In order to see if the treatment is right for you, you'll need to visit your dentist for a consultation.
What are the Benefits of Invisalign?
Invisalign offers a discreet way to get a straighter smile without the discomfort or unaesthetic appearance of traditional metal braces. Overall, you'll have a more comfortable and convenient treatment with quicker results. Since wires and brackets aren't used, periodic visits to the dentist to monitor your treatment progression are quick and easy. In addition, you won't have dietary restrictions since the aligners are removable prior to eating and drinking. This also makes oral hygiene simpler when compared to metal braces because you don't have wires and brackets obstructing your brushing and flossing.
Is There a Dentist Near Me for Invisalign in Cary?
Yes! Dr. Darren G. Koch offers Invisalign in Cary for adults in conjunction with other cosmetic services, such as teeth whitening, bonding, porcelain veneers, and porcelain crowns. Dr. Koch will complete a thorough evaluation to determine if Invisalign is right for you. Then, a customized treatment plan will be created to help you achieve that movie star smile you've always dreamed of!