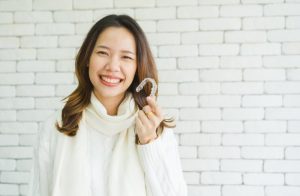 In your research about ways to straighten your teeth, you've found that Invisalign is touted as the most modern, effective way to achieve the results you're looking for. These clear braces seem to have so many benefits, including a subtle appearance and easy maintenance. Can you use insurance to help pay for this treatment? How can you make sure you're saving as much money as possible during treatment? Get the answers to your questions about Invisalign here in this post.
How does Invisalign work?
Once you and your dentist have determined to move forward with Invisalign treatment, the process goes as follows:
They will take impressions of your teeth and create a personalized treatment plan. They send this information to the Invisalign labs, where they make your custom clear braces.
When the first set of trays is ready, you will begin wearing them for 22 hours every day, taking them out only for eating and oral maintenance.
After about two weeks, you will switch to the next set of aligners.
About every six weeks, you will return to their office so that your dentist can check on your progress and make any necessary adjustments to your treatment plan.
Then, before you know it, you'll be finished with treatment and have the smile you've always wanted!
How long does Invisalign treatment take?
The duration—and therefore the cost—of your treatment will largely depend on the severity of your alignment issues, so it can vary case by case. However, patients typically achieve final results by 18 months at most, which is relatively fast compared to the 24 to 36 months that traditional braces can entail.
Does dental insurance cover Invisalign?
Every dental insurance policy can be unique, but most dental insurance companies cover at least part of Invisalign treatment. In fact, some insurances provide the same amount of coverage for Invisalign as they do for traditional braces. If you need help understanding your insurance benefits, your dentist's team members should be experienced in dealing with insurance companies and be able to explain your benefits to you clearly. Make sure you understand what you are responsible for paying before you start treatment so that you avoid surprises later on.
How can I save money in Invisalign treatment?
In order for your treatment to be successful and work as efficiently as possible, you need to follow the instructions your dentist gives you. That means wearing your Invisalign alignment trays every day for the requisite amount of time, keeping track of your aligners and not misplacing them, and taking care of your teeth and the trays as directed. If you deviate from these instructions, you could experience delays or changes in your treatment, which potentially equates to more cost in the long run.
When all is said and done, your perfectly aligned smile will be worth the time, effort, and resources you devote to it. By choosing to straighten your teeth with Invisalign, you'll likely spend the same amount as you would have with traditional braces, plus you'll enjoy all the other benefits that come with these clear aligners. If you have more questions about Invisalign, contact your cosmetic dentist for a consultation.
About the Author
Dr. Darren Koch has almost two decades of dental expertise under his belt. He and the team members at his practice offer Invisalign to teen and adult patients in the Cary area, and they are experienced with maximizing dental insurance benefits. For unforeseen out-of-pocket expenses, Dr. Koch offers CareCredit as a financing option. To schedule a consultation with him, call (919) 859-6633 or click here.