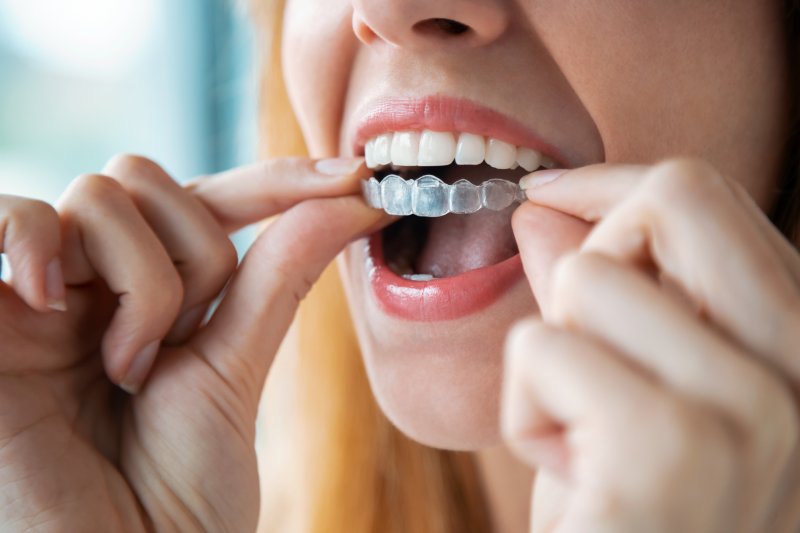 Over two decades ago, Invisalign came on the market and completely changed the field of orthodontics. Today, it has helped over 8 million patients around the world discreetly achieve the smile of their dreams. While their clear trays are innovative in many ways, one aspect is the same: the pressure they exert on your teeth can cause some discomfort. Fortunately, there are a few fast, effective ways you can relieve the soreness from your Invisalign in Cary. Read on to learn what they are!
#1. Use a Cold Compress
A cold compress, or towel-wrapped ice pack, works wonders on swollen or tender gums. When the irritation kicks in, the cooling sensation will decrease puffiness and provide a slight numbing sensation. You can even use this technique before you put your aligners in to prevent discomfort before it starts.
#2. Rinse with Warm Saltwater
Salt and water are two household staples that are a powerful pain-relieving liquid when combined. To use this solution, dissolve a ½ teaspoon of salt in a glass of warm water. Then, take a sip, gently swish the mixture around in your mouth, and spit it out. Repeat this process until the water is gone.
#3. Avoid Hard or Crunchy Foods
When your teeth and gums are sore from the pressure of your aligners, the last thing you want is to exert additional strain with hard or crunchy foods. Therefore, it's a good idea to stick with yogurt, soup, and other soft snacks and meals when starting a new phase of treatment. Once your mouth has adjusted, then you can resume your usual diet!
#4. Switch to New Aligners Before Bed
Luckily, the discomfort from a new set of aligners typically only lasts a couple of hours. So, why not make the switch at bedtime? This will allow you to sleep through the most sensitive hours. By the morning, your teeth will have adjusted, and you'll be ready to take on the day!
Wearing your new trays may cause some soreness, but that means it's working! Instead of taking them out to give your teeth a rest, use the above four tips. That way, you can stay on track with your treatment while remaining as comfortable as possible.
About the Author
For nearly two full decades, Dr. Darren Koch has been using his clinical expertise, years of hands-on experience, and genuine passion for his craft to help patients achieve their dream smile. Today, he uses the latest in proven dental technology, including the iTero Element Intraoral Scanner to meticulously craft custom treatment plans and deliver flawless results. Ready to schedule your initial consultation? Looking for a cosmetic dentist in Cary? Visit his website or give him a call at 919-859-6633.