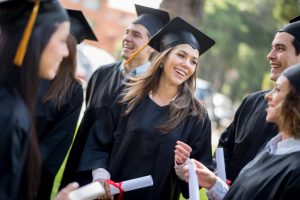 You have spent the last four years preparing for a bright future. As graduation day approaches, now is the time to further invest in your future with professional teeth whitening. As you walk across the stage, you deserve to feel confident with a radiant smile. Not to mention, an attractive smile will also help you succeed in your new career path. To ensure you head into your new endeavors with confidence and your best foot forward, benefit from KoR teeth whitening. As your dentist in Cary, Dr. Darren Koch will help you achieve a bright, white smile before graduation day.

Benefit from a Whiter Smile
Although many tend to believe tooth discoloration is only a problem as you age, the teeth can darken prematurely. Poor oral hygiene and certain lifestyle habits, like smoking, can cause stains to develop sooner. Not to mention, the foods and drinks you consume, like berries, coffee, and tea, can cause your teeth to darken.
No matter the cause, tooth discoloration causes you to lose your confidence, and you may be viewed differently. Unfortunately, research shows that people are often judged by the appearance of their teeth. If you do not have an attractive smile, it can hurt your new career prospects.
Thankfully, you can improve your confidence and set the right foundation for a great career with a bright, white smile. With KoR teeth whitening, you will restore the appearance of your teeth just in time for graduation day.
KoR Whitening System
If the convenience of over-the-counter whitening products fit your busy schedule, the KoR whitening system is for you. You will enjoy an at-home option to whiten your teeth while achieving professional-quality results.
Unlike over-the-counter products, the KoR system contains a professional-grade whitening agent to deeply penetrate the enamel. Tough stains are lifted to restore a white smile. After performing an initial consultation, Dr. Koch will determine if you are a candidate for the treatment.
You will be provided with everything you need to whiten your teeth at home, including the whitening trays and the bleaching solution. The trays ensure the even distribution of the whitening agent for consistent results. The specially formulated gel reduces sensitivity by preventing dehydration of the teeth. It is powerful enough to remove tough stains from foods, poor oral hygiene, and lifestyle factors.
You will wear the trays for a set period of time each day when it is convenient for your schedule. Within a few days, you will see stains start to fade and a brighter smile break through. Within two weeks, you will have a youthful, refreshed smile to walk across the stage with confidence.
Dentist Near Me for Teeth Whitening
If you are ready to step into a bright future with an attractive, white smile, it is time to schedule a consultation with Dr. Koch. He will help you achieve the drastic results you need with the comfort of an at-home whitening kit. After all your hard work, you deserve to start your new future with a bright smile.