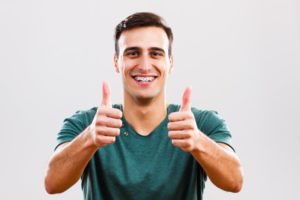 Along with social distancing, we know that cleanliness and hand hygiene are an important defense against the COVID-19 virus. For dentists, personal hygiene standards for themselves and their staff have always been high, and those standards have only become more stringent since the pandemic began. Keep reading to learn how dental offices go above and beyond when practicing hand hygiene. These protocols are designed to minimize the risk of exposure to the virus so you can get the dental care you need without worry!
Frequent Handwashing Throughout the Day
Each member of the dental team washes their hands often, including:
Before and after contact with each patient
After cleaning a treatment room
Anytime gloves are removed
After snacks, meals, or using the bathroom
Proper Handwashing Technique
It's common for people in the general public to wash their hands for only a few seconds which, unfortunately, isn't very effective.
But healthcare professionals in the medical and dental field learn the importance of proper technique as part of their training. Here are the basic steps they're taught:
First, wet your hands under clean, running water.
Work up a rich lather and gently "scrub" for 20 seconds (some people sing happy birthday or the alphabet twice to make sure they're washing long enough).
Make sure to cover the entire surface area of your hands and wrists, including your fingertips and nails.
Rinse thoroughly.
Dry your hands well with a clean paper towel and use it to turn off the faucet.
The Use of Hand Sanitizer When Appropriate
According to the CDC, hand sanitizer that contains between 62-95% alcohol is effective for dental teams as long as there is no visible contamination on their hands. It's often perfect for the front desk staff and can also be used by clinical staff members as well.
Use of Personal Protection Equipment (PPE)
Infection control also involves using a new pair of gloves for each patient, when cleaning treatment rooms, and when handling instruments. According to the Centers for Disease Control, this alone reduces hand contamination by 70 to 80 percent, which helps to make handwashing even more effective.
Everyone needs regular dental care to have a healthy smile. And now that you know about these handwashing protocols, you can be confident that the entire dental team has clean hands at every visit.
About the Author
Dr. Darren Koch is a family dentist with nearly two decades of experience. He and his staff have always made hand hygiene a top priority, and that continues to be true during the COVID-19 pandemic. If you'd like to know more about how he's keeping his patients safe right now or have any other questions, he can be reached via his website.