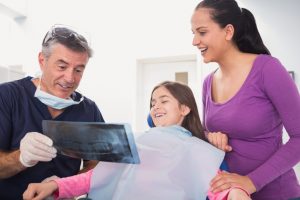 As a parent, you do everything you can to protect the health and development of your child's teeth, but you may be overlooking one vital step—dental care. Since the primary teeth eventually fall out, many people tend to believe children do not need to see the dentist unless a problem develops. However, this could not be further from the truth. The American Dental Association recommends every one over the age of two visits the dentist twice a year for preventive care. As a family dentist in Cary, Dr. Koch provides dental services for children.

Why Do Children Need a Dentist?
Although the American Dental Association recommends children start receiving regular dental care at the age of two, the American Academy of Pediatric Dentistry recommends children see the dentist before the age of one.
Your child's primary teeth play a vital role in their ability to develop proper oral functions, such as chewing. In addition, they are important for your child learning to speak correctly. The primary teeth also act as placeholders for the permanent teeth. If the baby teeth are unhealthy, it can cause development delays for your child. Plus, their permanent teeth could be impacted by complications with the primary teeth.
To ensure the health and development of the teeth, your child needs to have their teeth cleaned professionally every 6 months. This prevents tooth decay, which is the leading complication we treat in children.
We also perform a comprehensive evaluation. This allows us to detect potential dental concerns early from prompt intervention. As a result, the need for costly or invasive dental procedures in the future are kept to a minimum. We also provide certain treatments, such as dental sealants and fluoride treatments, to protect the teeth from cavities.
In addition to oral health, children who visit the dentist regularly are more likely to maintain their oral health into adulthood. They learn from a young age that dental care is important. By taking your child to their Cary dentist, you set the foundation for a lifetime of dental health.
How Can I Protect My Child's Teeth?
Setting the foundation for a lifelong healthy smile is easy. Teach your child to correctly brush their teeth twice a day and to floss each tooth daily. Limit their consumption of sugary and starchy foods, which increase the risk for tooth decay. Ensure they eat a well-balanced diet to promote the health of the teeth.
In addition to home care, take your child to the dentist regularly. As a rule of thumb, your child should see the dentist for the first time about 6 months after their first tooth erupts. During their dental appointments, we take the time to make your child feel comfortable while educating them about dental health. We build personalized relationships to ensure your child enjoys visiting the dentist.
Together, we can promote the health and development of your child's teeth with regular dental care. If your child needs a dental appointment, contact our office today to schedule your consultation.