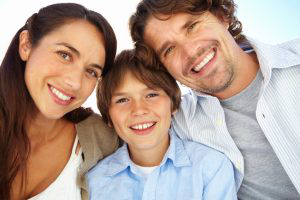 The health of your family's smiles is important to you. You strive to instill healthy oral habits, but does everyone visit their dentist in Cary regularly? All too often, daily commitments and busy schedules can get in the way of preventive dental care. As summer comes to an end, now is the perfect time to schedule your loved one's semi-annual dental cleanings and checkups. Before your children head back to school and your days become filled with homework help, take the time to keep your family's oral health a priority. If you currently do not have a dentist, we are gladly accepting new patients.

Get a Healthy Smile Before Summer Ends
The American Dental Association recommends that everyone over the age of two sees their dentist twice a year for a cleaning and checkup. However, life gets busy and the months between your appointments can become further and further apart. We understand that your time is valuable, which is why we offer convenient office hours to accommodate your hectic schedule. Now, you can ensure your family has healthy, beautiful smiles before the end of summer—even if you are a new patient.
Even with the best brushing and flossing habits, there are still areas in the mouth that cannot be cleaned at home, which is why you need a professional cleaning. Without a regular hygiene appointment, plaque and tartar will accumulate in hard-to-reach areas, leading to tooth decay and gum disease. After cleaning the teeth, we discuss individual oral hygiene habits to help your family reaches their oral health goals.
In addition to a cleaning, Dr. Darren Koch will perform a comprehensive examination. A regular exam allows Dr. Koch to monitor your family's dental health. This allows for the early detection of potential problems for a quick intervention. If he finds any area that requires treatment, such as a filling, the procedure can be performed before the end of summer to prevent missed school and work days.
During the examination, Dr. Koch will not just look at the teeth and gums. His examination is extensive to also check the bite, neck, and jaw to monitor for any issues, such as a temporomandibular disorder. In addition, he offers oral cancer screenings to detect cancerous and precancerous cells early for prompt treatment.
Benefit from Complete Oral Health
By scheduling your appointment now, you will ensure your family finishes summer with healthy, beautiful teeth and gums. With oral health directly linked to overall health, you will promote optimal well-being into the new year.
With comfortable, personalized care for the entire family, you can schedule everyone's appointment from one location, saving you time by having all their needs met in our office. We provide care for patients of all ages to build generations of healthy smiles.
No matter if you are an existing patient or you are looking for a new Cary dentist, we will protect the health of your loved one's smiles with complete preventive care. Contact our office today to schedule your family's appointments before the end of summer.