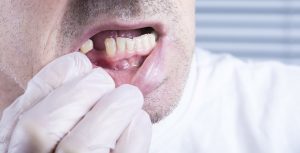 Despite several new innovations in dentistry to preserve natural teeth, tooth loss is still a prevalent problem. In fact, it is estimated 120 million Americans are missing at least one tooth while another 35 million do not have any remaining. While you may think injury or cavities are the leading cause of missing teeth, they are not. Instead, the #1 cause of tooth loss is due to periodontal (gum) disease. You can help save your smile with the right treatment from your dentist in Cary.

What is Gum Disease?
Periodontal disease is a preventable infection that develops in the gum tissue from bacteria found in tartar accumulations. While it can be avoided, the Centers for Disease Control and Prevention estimates at least 50% of adults have it. Although the early signs of the infection may not seem like a large concern, over time it can create significant complications for your oral and general health.
Gum disease causes pockets to form in the spaces between your teeth and the tissue. Bacteria becomes trapped, causing the infection to intensify. If it is not treated quickly, it destroys the supporting structures of your teeth. This will make them become loose and eventually fall out.
Is Gum Disease Treatable?
It is best to treat gum disease at the first sign of a problem, such as swollen, red, or bleeding gums. This is the first stage of the infection, known as gingivitis. It can be treated without causing any long-term damage to your dental health with a deep cleaning and changes to your oral hygiene routine.
If you do not get treatment right away, the infection continues to periodontitis. At this point, you may see pus pockets or gum recession and experience tooth pain. Now, permanent damage has resulted, and you will need a more aggressive treatment plan.
If you reach the point of advanced periodontist, serious damage has occurred to your oral health. Besides periodontal therapy, you may also need restorative treatments to rebuild your smile, like tooth replacements or gum grafting.
Can I Prevent Gum Disease?
You can decrease your risk of gum disease by following a few simple tips:
Brush your teeth twice a day for 2 minutes using a soft-bristled toothbrush and a fluoride toothpaste.
Floss in between each tooth every night before going to bed.
Visit your Cary dentist twice a year for a cleaning and checkup.
Do not smoke or use tobacco.
Protect Your Gum Health
With a proactive approach, you can keep your gums healthy to help ensure your teeth last for a lifetime. Your dentist creates the individualized solutions you need to maintain optimal oral health. If you notice any signs of the infection, do not wait. Contact your dentist right away.
About Dr. Darren Koch
For the past 17 years, Dr. Darren Koch has provided quality dental care to the community. Besides general dentistry, he offers many specialty services, including periodontal therapy. He caters his treatment plans to your specific needs to keep your teeth and gums healthy. If you have gum disease, contact our office today for an appointment.