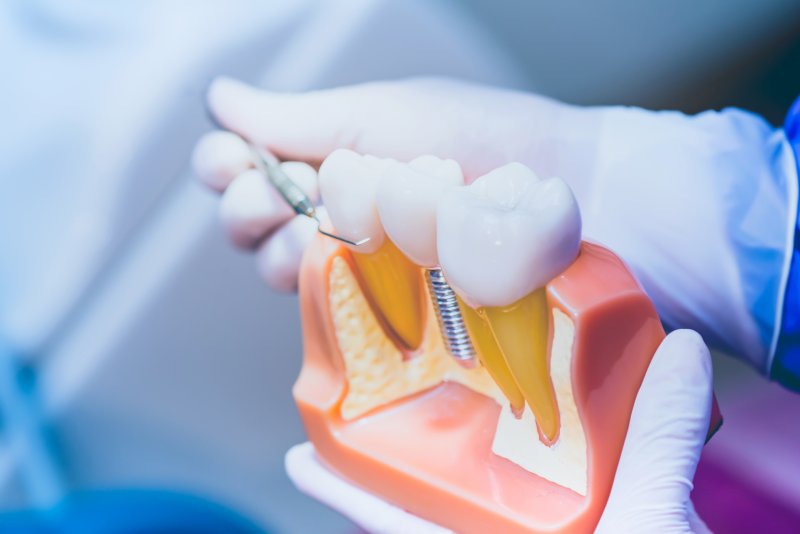 Preparing for dental implants in Cary? Congratulations! Choosing this type of tooth replacement solution will have you enjoying a healthier, long-lasting smile for years to come. But before you begin your journey to replace your missing teeth, you may be wondering if your implants could fail. The truth is that although it is possible you can face complications, it is extremely rare, and when comparing these titanium posts to other tooth replacement solutions (i.e., dentures, crown and bridge), you can expect more reliable, life-changing results. Read on to learn more about the benefits of dental implants and why they are superior to other available options.
Can Dental Implants Fail?
Dental implant placement has an extremely high success rate (around 95-98%). But just like any oral surgery, there is the potential for complications or even failure. Although rare, there are reasons why these titanium posts may not fuse with the bone and tissue or become loose years later.
Some of the most common reasons dental implants fail include:
Improper placement by an implant dentist
General oral and overall health (i.e., an autoimmune disorder, periodontal disease)
Poor lifestyle habits (i.e., smoking or using tobacco products)
Inadequate jawbone density
Poor oral hygiene (peri-implantits, which occurs when you don't take care of your teeth and gums)
Why Implants Are a Better Solution
Although there is a small chance that a problem could develop with your implants, you are more likely to experience issues when choosing dentures or a crown and bridge method of treatment. Designed to be a permanent solution for tooth replacement, dental implants must fuse with the bone and surrounding tissue to successfully remain in place for decades or longer.
When opting for a dental bridge or dentures, you not only face the need for frequent replacements, but you may also find yourself at risk for serious oral health problems like bone and tooth loss. Because these restorations only sit on top of the gums, they are prone to harmful bacteria and particles spreading beneath the base and negatively impacting your soft oral tissues. Also, there is nothing to continue stimulating the jawbone, resulting in the alveolar bone deteriorating over time. This, in turn, weakens the jawbone and can cause adjacent teeth to shift, become loose, and eventually fall out.
When properly cared for and maintained, dental implants can keep your facial structure strong and more youthful, allowing you to enjoy a healthier, more vibrant smile for a longer period of time. When choosing to move forward with your tooth replacement surgery, make sure to find a professional who is trained to perform the work or partners with trusted specialists in the area. This will ensure your smile remains in good hands from start to finish.
About the Author
Dr. Darren Koch earned his Doctor of Dental Surgery degree, graduating with honors in 2001, from The University of Buffalo. As a trusted dentist, he and his team want individuals living with dental implants to enjoy their new smiles for decades or more. By using updated and advanced technology, Dr. Koch can ensure patients with missing teeth can avoid potential implant failure by taking the necessary and appropriate steps during the planning stages of treatment. If you or a loved one are interested in dental implants and want to learn more about the technology used, contact us at (919) 859-6633.