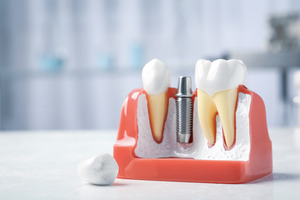 Getting dental implants to replace lost or removed teeth begins with an implant consultation with your dentist. During this initial appointment, you'll be encouraged to ask any questions you might have about the process; after all, you shouldn't have any doubts when it comes to important decisions about your grin. Here are 4 examples of questions that you should bring up at your implant consultation.
1. What Will the Process Look Like?
First, you need to make sure that you understand what will happen if you agree to get dental implants. It's important to familiarize yourself with the different steps of the implant process as well as who will be carrying them out.
Oftentimes, a local specialist will perform the dental implant surgery while your regular dentist provides and places the final restoration (meaning the crown, bridge, or denture that is anchored to the dental implant posts). Make sure that you know who will be responsible for your smile at each step.
2. Are You a Candidate for Dental Implants?
Dental implants require a strong, healthy jawbone to bond with. Also, they're more likely to be successful in the long term if your mouth is free of gum disease. At your initial consultation, you should take the time to confirm with your dentist that dental implants are suitable for your mouth. Remember to bring up any dental or medical issues that you've dealt with in the past.
3. How Long Will It Take to Get Dental Implants?
There's no set timeline for the dental implant process due to several variables. For instance, some people will be able to have dental implants placed shortly after their initial consultation. Others will need to undergo bone grafting and other preliminary procedures first, which effectively adds several months to the process. Your dentist can often give you an estimate for how long your dental implant treatment will take so that you can start making plans for the long term.
4. How Much Will Dental Implants Cost?
Another aspect of the dental implant process that tends to vary from patient to patient is how much you'll pay for your new teeth. The overall cost can generally be estimated based on the number of teeth that need to be replaced as well as other factors. Also, dental insurance might partially cover the final restoration and certain other aspects of the process, even if it won't necessarily pay for the actual implants. Always take the time to voice any concerns you have related to the cost of dental implants.
If there are any other implant-related questions you have, be sure to write them down. That way, you won't forget to ask them when you go to see your dentist. Take the initiative in learning more about dental implants before you have to make any decisions.
About the Author
Dr. Darren Koch graduated from the Rochester Institute of Technology before studying dentistry at the University at Buffalo. His Cary practice provides a full menu of general and cosmetic dental treatments to patients of all ages. He works closely with local oral surgeons and offers personalized, lifelike dental implant restorations. To schedule an implant consultation with Dr. Koch, visit his website or call (919) 859-6633.