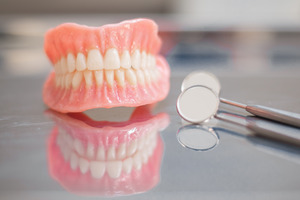 Getting full dentures for both arches means that all of your natural teeth have been lost. As such, you might find yourself wondering if there's still any point in continuing to see the dentist every six months. Without a doubt, the answer is yes! There's much more to oral health than just your teeth, and dental checkups don't stop being important just because you no longer have to worry about cavities. Here are 3 reasons why you should keep maintaining biannual dental checkups even after getting dentures.
1. Regular Dental Visits Will Help You Maintain Good Oral Hygiene
Patients with dentures still have to be aware of the risks of gum disease, which may occur if plaque and tartar are allowed to accumulate in the mouth. Dentures need healthy gums and bones to help support them, so gum disease that stays untreated for too long can eventually lead to problems with your prosthetic.
Regular professional cleanings can help you keep your mouth and dentures free of plaque and tartar. Additionally, your dentist can inform you if there are any spots that you need to pay closer attention to during your daily oral hygiene routine.
2. Regular Dental Visits are Necessary for Catching Oral Health Issues Early
As mentioned above, gum disease is still a serious oral health issue even after your natural teeth have been replaced by dentures. Additionally, oral cancer remains a concern. This life-threatening disease is easier to manage when it's still in its early stages, but you won't always be able to catch the warning signs on your own.
Every dental appointment gives your dentist an opportunity to check for gum disease, oral cancer, and other issues that might still be in the early stages of development. This is a major reason why it's recommended that you schedule at least two dental checkups a year.
3. Regular Dental Visits Let Your Dentist Adjust Your Dentures
The hard and soft tissues in your mouth won't stay exactly the same. They'll keep changing as time passes, which means you may reach the point where your dentures no longer fit as well as they used to. As you can imagine, ill-fitting dentures can be very uncomfortable and may slip when you don't want them to; they're also prone to causing sores.
During a regular dental appointment, your dentist can evaluate your dentures to see if they still fit. If any problems are found, it's often possible to adjust your dentures so that you can continue wearing them without issue.
About the Author
Dr. Darren Koch went to the University at Buffalo for his dental degree, and he graduated in the top 15% of his class. Part of the reason that he enjoys dentistry is that it combines art, science, psychology, and physical dexterity. Providing full dentures to replace missing teeth is just one of the many services that he offers at his practice in Cary. To schedule a consultation with Dr. Koch, visit his website or call (919) 859-6633.