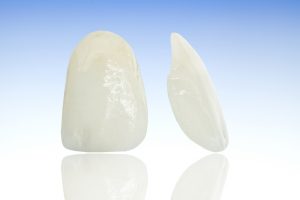 Dental veneers are one of the most common cosmetic procedures performed due to the lifelike results that can be achieved when these exquisitely crafted restorations are used to enhance the appearance of the teeth. When compared to other cosmetic procedures, veneers produce more dramatic results than teeth whitening and bonding. By attaching thin shells of porcelain to the front of the teeth, cosmetic flaws can be hidden while improving tooth shape. Overall, veneers are an effective way to make teeth appear straighter, whiter, and more proportional to one another. As a cosmetic dentist in Cary, Dr. Darren Koch offers this minimally invasive procedure to create more aesthetically pleasing smiles.

Why Choose Veneers?
Veneers are a simple and effective means to drastically enhance the appearance of the teeth. Through a cosmetic procedure, porcelain laminates are bonded to the front side of the teeth, instantly making the teeth appear whiter. In addition to a natural appearance, veneers are an easy way to hide chips and cracks while giving abnormally shaped teeth a more pleasing appearance. In some cases, veneers can also be used to make the teeth appear straighter by filling in small gaps and hiding minor crowding. Those who have smaller than average teeth or worn teeth often elect for veneers to achieve a more attractive smile.
What is the Process to Get Veneers?
There are two types of veneers: porcelain veneers and composite resin veneers. Both materials are effective for improving the appearance of the teeth, but porcelain is preferred because it most closely mimics enamel. Highly skilled technicians sculpt porcelain veneers in a dental laboratory to ensure the final result is both natural looking and beautiful.
To benefit from porcelain veneers in Cary, you will need to begin with an examination and consultation by Dr. Koch. After the teeth are cleaned, Dr. Koch will evaluate the health and appearance of your teeth to formulate a treatment plan. Next your teeth will be digitally scanned so that a "diagnostic blueprint" can be created to ensure that all functional and cosmetic goals are achieved. This digital 3-D model will be reviewed with you and can be transferred directly to the mouth to provide a preview of the final result. After your teeth have been minimally prepared, images and impressions of your teeth are taken which are used to create your custom veneers. While you wait for your new veneers to be made, temporary veneers will be attached. Approximately two weeks later, Dr. Koch will remove the temporaries and bond your permanent porcelain veneers to your teeth.
This simple and minimally invasive procedure provides excellent longevity because of the strong bond that can be obtained between porcelain and enamel. With proper oral hygiene and regular visits to your dentist, your new veneers will last for an average of 10 years and possibly even 15 or 20 years.
Your Cosmetic Dentist in Cary
Dr. Koch is a specially trained cosmetic dentist who combines the art and science of cosmetic dentistry to transform your smile. Now, you no longer have to live with a flawed smile that hurts your confidence. Get the radiant smile you have always wanted with dental veneers. Call Dr. Koch today at (919) 859-6633 for a consultation.