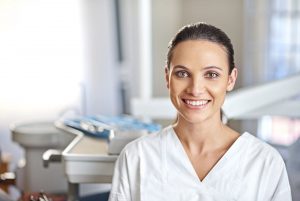 Dental crowns and dental bridges hold a common place in restorative dentistry because they are affordable and reliable. When used separately, the two offer a wide range of benefits to restore oral health and functions. However, crowns and bridges are often used together to replace missing teeth. No matter how the two are used, a dental bridge or dental crown in Cary offers exceptional benefits. As a restorative dentist, Dr. Darren Koch offers both to treat several oral health issues. As your trusted dentist for restorative dentistry, Dr. Koch explains the process to receive a dental crown or dental bridge in Cary.

Understanding Dental Crowns
Dental crowns can be used for a number of restorative and cosmetic purposes. Essentially, a dental crown is a cap that is placed over a tooth. By placing a crown, the tooth regains health, function, and a natural appearance. Often, dental crowns are used for teeth that have become severely damaged or weakened. In some cases, they are also used to give a tooth a more natural appearance when it has become damaged or is abnormally shaped. It is not uncommon for dental crowns to be combined with other procedures, such as root canal therapy or a dental bridge.
To receive a dental crown, your tooth will first need to be prepared, which involves reshaping the tooth to allow the crown to be securely bonded to the tooth. After a tooth has been prepared, impressions of the tooth are taken, which are needed to create the permanent crown. A temporary crown is attached to the tooth while you wait for the permanent crown to be made. After the permanent crown is ready, the temporary crown is removed to allow the final restoration to be bonded in place.
Understanding Dental Bridges
A dental bridge is a common and affordable means to replace missing teeth. Essentially, a dental bridge does just as it states—it bridges the gap between missing teeth. Prosthetic teeth are attached to a metal framework. Then, the frame is held in place by using dental crowns, which are bonded to the adjacent teeth. This allows the bridge to be securely held in place to restore oral functions while increasing the aesthetics of a smile. In order to benefit from a crown and bridge, you will require two to three appointments to complete the entire process.
Benefit from Dental Crowns and Bridges
To produce high-quality results, Dr. Koch offers all-ceramic restorations. This provides a natural-looking restoration that offers durability and reliability. Dr. Koch will help you restore your oral health and functions while gaining a natural-looking solution that will last for many years to come with the right care.
As a cosmetic and restorative dentist, Dr. Koch offers dental crowns and bridges to treat a number of oral health complications. No matter if you need the health of a damaged tooth restored or need to replace missing teeth, Dr. Koch offers the solutions for your oral health needs.
If you are in need of a dental crown or bridge, contact Dr. Koch to schedule a consultation.