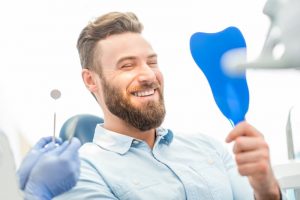 Your smile is often the first thing that people notice about you. Does that worry you? What kind of impression does your smile make? If your aren't confident in the way your teeth look, you may avoid smiling or interacting with others altogether, closing off many important and fulfilling opportunities in life. Whether you need just a little touchup or a complete smile makeover, your cosmetic dentist can help you achieve your smile goals and regain your confidence through these four dental services.
Porcelain Veneers
It can be particularly discouraging if your teeth have multiple flaws at the same time. But believe it or not, there is one treatment that can address chipped, cracked, gapped, misaligned, misshapen, and discolored teeth all at the same time—porcelain veneers. These small, thin shells of ceramic material are bonded to the front surfaces of your teeth to cover up all their little imperfections, giving you a natural-looking, beautiful smile. Your dream smile could closer than you thought possible.
Invisalign
You probably already know that straight teeth are considered more visually appealing, but did you know that they also are easier to keep clean and healthy? It's a win-win! In the past, straightening your teeth entailed wearing metal brackets and wires for years before seeing the final results. Nowadays, you can turn to Invisalign for quicker, more inconspicuous treatment. After all, the whole point of straightening your teeth is to improve your confidence, not make it worse! Invisalign is a great way to get the results you want without having to sacrifice your appearance during the straightening process.
Crowns and Bridges
If your smile has gone through damage or decay in the past, it doesn't mean that you're relegated to an unattractive smile. Dental crowns and bridges are custom-made prosthetics that look realistic and restore your hurting or missing teeth to their former strength, function, and beauty. Advancements in technology, such as with digital intraoral scanning, ensure that these dental prosthetics fit as precisely as possible for a natural, flawless look.
Dental Implants
When you lose a permanent tooth, your smile isn't the only thing that suffers. Your jaw bone loses density over time, changing your facial shape to look older and more saggy. But the good news is that you can do something about it! Dental implants integrate with the jaw bone, keeping it strong and preserving your facial structure while also replacing the teeth that you've lost. Even in the case of total tooth loss, you can opt for implant-retained dentures to have an attractive smile that stays in place when you bite, chew, speak, and laugh.
In the end, the way you feel about your smile matters, and regardless of how simple or complex your teeth's cosmetic flaws are, you deserve to have a smile that you're proud of. That way, nothing will hold you back from experiencing all that life potentially has in store for you. Contact your cosmetic dentist today for an consultation to get on the path toward a more radiant, confident you!
About the Author
After earning his doctor of dental surgery degree, Dr. Darren Koch completed a one-year residency in general dentistry and earned an Advanced Education in General Dentistry certificate. With nearly two decades of clinical experience, he continues to hone his skills in cosmetic dentistry through taking courses with Spear Education. He offers and excels at delivering all the services mentioned in this post. To make an appointment with him, you can call (919) 859-6633 or click here.